Accessories Car Racks Roof Racks Parts Roof Rack Cargo Mounts - Road Bike Shop
Shop
>
Vehicles & Parts > Vehicle Parts & Accessories > Vehicle Storage & Cargo > Motor Vehicle Carrying Racks > Vehicle Bicycle Racks
>
Accessories > Car Racks > Roof Racks & Parts > Roof Rack Cargo Mounts
Rhino-Rack XTray Large Roof Mount Cargo Basket One Color, 63x44x7
Whether you're heading out with friends on a gear-intensive expedition, making the big move cross-country, or simply going on a family vacation, expand your carrying capacity with the Rhino-Rack XTray Large Roof Mount Cargo Basket. It frees up roughly twenty square feet of floor space in the car...
Thule Canyon XT Cargo Basket One Color, One Size
No matter how much room you think you have in your car, by the time you get the bags, bikes, snacks, and dog loaded up, you're stuffed to the gills. Before you spend another road trip driving with no visibility from your back windows, upgrade your packing routine with the Thule Canyon XT Cargo...
Thule Force XT Cargo Box Black, Sport
We get some help saving space in the car for the dogs and kiddos with the Thule Force XT Cargo Box carrying all our gear. Boasting a spacious With different sizing options for different capacities, the Force XT stores skis, snowboards, climbing gear or anything else you may need. An intuitive...
Thule Pulse Cargo Box One Color, Alpine
Thule designed the Pulse Cargo Box for the budget-minded driver with a serious outdoor addiction. Available in three sizes, the durable Pulse Cargo Box adds much-needed space to your car and separates your wet, muddy toys from your car's clean interior on the ride home.
Thule Vector Alpine Cargo Box
Retail Price:
$1,599.95
Our Price: $1,279.96
buy now
Keep the interior car spacious and clean by transporting your gear in the Thule Vector Alpine Cargo Box. This box offers dual-opening and a durable felt lining to ensure you can effortlessly access your gear, and that your gear gets there in one piece.
Yakima CBX 16 Solar Cargo Box One Color, One Size
We like the CBX 16 Solar Cargo Box because it keeps our batteries charged while ensuring we are fully prepared for an adventure. The solar panel on top converts power to two USB outlets inside while ensuring that our gear is secure.
Yakima EVO OpenRange One Color, One Size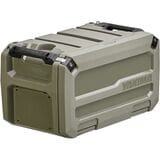 Yakima's EVO OpenRangeis perfect for transporting our cooking setup or gear to the campsite or on road trips. When open, the sturdy front door lays flat for a convenient working station where we can prep meals or assemble gear. This box includes a lantern hook, backboard organizer, and handheld...
Yakima EXO GearWarrior One Color, One Size
When we need to haul messy firewood or leaky coolers, we stash them on the Yakima EXO GearWarrior rack. This open hitch rack adds capacity to your trusty SUV or hatchback to help you embark on even more adventures.
Yakima EXO LitKit One Color, One Size
There's no such thing as being too safe while driving. With Yakima's EXO LitKit, we can make our lights and license plate more visible to better stay out of harm's way. Its toolless installation is fast, including all we need to connect quickly and easily to our vehicle's wiring harness.
Yakima EXO TopShelf One Color, One Size
We like the Yakima EXO TopShelf because it adds a second layer of storage to our trusty EXO SwingBase. The TopShelf lets us attach different mounts to carry our gear of choice.
<< Prev | 1 | 2 | Next >>