Accessories Car Racks Hitch Racks Parts Hitch Mount Accessories - Road Bike Shop
Shop
>
Vehicles & Parts > Vehicle Parts & Accessories > Vehicle Storage & Cargo > Motor Vehicle Carrying Racks > Vehicle Bicycle Racks
>
Accessories > Car Racks > Hitch Racks & Parts > Hitch Mount Accessories
Kuat 4 Pin Flat Rack To Car Wiring Harness
Enhance your cycling adventure with Kuat's 4 Pin Flat Rack To Car Wiring Harness. This top-notch bike accessory is a cyclist's dream, ensuring seamless connection between your bike rack and vehicle. Its durable design guarantees reliable performance and longevity, even in harsh weather conditions...
Kuat Hi-Lo Hitch Extension Black, 2in
We like the Hi-Lo Hitch Extension because it tackles wobble out of the equation. It acts as a secure extender that increases clearance for rear-mounted accessories, and its zero-wobble hitch lock keeps our bikes safe and secure, so we'll never have to worry about our bikes mid-travel.
Kuat Hi-Lo Pro Hitch Extension Black, 2in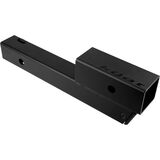 Your faithful bike rack is designed to haul your gear from A to B, but nothing summons more paranoia than a wobbling bike rack in your rear view mirror as you cruise down the interstate at high speed. To instill some confidence in your rear end setup, throw the Kuat Hi-Lo Pro Hitch Extension onto...
Kuat Hitch Adapter
You're happily connecting your new bike rack to your ride when, to your horror, you realize that your bike rack is designed for a 1. 25-inch hitch, and your trusty vehicle has a 2-inch receiver. Unless you're prepared to do some kind of welding wizardry to make the rack a permanent fixture, use...
Kuat Locking Hitch Pin
Keep your new Kuat bike rack safe by locking that bad boy to the hitch using the Locking Hitch Pin. This pin works with a 1-1/4-inch rack in a 2-inch receiver and is compatible with a range of Kuat racks. The Locking Hitch Pin is available in either a 1-1/4 or 2in version. Two keys are included...
Kuat Piston Fender Strap Kit One Color, One Size
Piston Fender Strap Kit
Kuat Piston SR 2in Hitch Adapter Black, One Size
The PISTON SR 2 HITCH ADAPTER seamlessly works with your 1-bike PISTON SR in your vehicle's hitch. Easily convert our PISTON SR roof rack into a burly, single tray hitch rack with our The PISTON SR 2 HITCH ADAPTER. With a weight limit of 100 pounds, its a great accessory for a heavier e-bike. The...
Kuat RackDock Hitch Storage
You may be among the many that purchase Kuat hitch-racks for the unique sophistication and aesthetically pleasing value they possess. And just like with any work of art, you feel a bit inadequate as a collector when you leave it sitting on the bare floor of the garage to collect dust and spider...
Kuat Trail Doc Kit - NV Base 2.0
Kuat's Trail Doc Kit pops onto the NV Base 2. 0 to turn your hitch-mount rack into an emergency work stand. Maybe an errant branch caught your bike, maybe you didn't take the time to check your cockpit before loading up in the morning, or maybe you plan on setting up a wrench-for-hire operation...
Kuat Transfer Cable Lock Kit + Locking Hitch Pin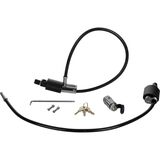 Things happen, and instead of making you relive that particular incident, we'll just say that you can replace those broken lock cables on your two- or three-bike capacity Transfer rack with Kuat's Transfer Cable Lock Kit with Locking Hitch Pin. Each kit comes complete with a locking cable for...
<< Prev | 1 | 2 | 3 | Next >>