Accessories Car Racks Hitch Racks Parts Hitch Bike Racks - Road Bike Shop
Shop
>
Vehicles & Parts > Vehicle Parts & Accessories > Vehicle Storage & Cargo > Motor Vehicle Carrying Racks > Vehicle Bicycle Racks
>
Accessories > Car Racks > Hitch Racks & Parts > Hitch Bike Racks
Kuat Beta 2.0 Bike Rack
Bike rack installation and loading doesn't need to be a game of chess. And it shouldn't; you want to hit the road and get riding. The Kuat Beta 2. 0 Bike Rack asks that you simply hand tighten the cam system to install to your hitch, secure the bikes on the mounts and spend more time riding. You...
Kuat NV 2.0 Bike Hitch Rack
Kuat spent years overhauling its NV 2. 0 Bike Hitch Rack and fine-tuning it to perfection, which is why we trust it for transporting our bikes. Kuat managed to find room to improve just about every feature of the NV 2. 0, all of which contributes to a stable, more reliable tow than the NV 2. 0's...
Kuat NV 2.0 Bike Hitch Rack Add-On
Increase the carrying capacity of your NV 2. 0 Rack by grabbing the NV 2. 0 Hitch Rack Add-On. Whether you're riding with friends or growing your own stable of bikes, the Add-On works with NV 2. 0 racks with the 2-inch receiver (1. 25in not compatible), and holds two extra bikes in the same way....
Kuat NV Base 2.0 2 Bike Add On
When we're packing bags and planning logistics for a four-person, cross-country trip to a storied desert trail system, there's a whole lot of snack money to be saved by expanding our rack's carrying capacity with Kuat's NV Base 2. 0 2 Bike Add On. This accommodates everyone instead of shelling...
Kuat NV Base 2.0 Bike Hitch Rack
All we need is Kuat's NV Base 2. 0 Bike Hitch Rack and we'll be heading out on adventures with less packing time, reduced stress, and fewer messy consequences for the car's interior. Adjustable cradles accommodate wheelbases up to 50 inches and tires ranging from skinny road slicks up to 5-inch...
Kuat Piston Pro Hitch Rack - 2-Bike
Kuat's Piston Pro Hitch Rack shares features with their most high-end bike rack but sheds extra bells and whistles for a simpler, scaled-down tool. Its all-metal construction is tough as nails, keeping us worry-free as we speed down the freeway and off-road to our destination. OneTap Piston arms...
Kuat Piston Pro Hitch Rack Add-On
For added carry capacity on the Kuat Piston Pro Platform, we outfit it with the Piston Pro Hitch Rack Add-On. The tire arms stay free from our bike's frame, keeping the paint pristine, while the tool-free fitting makes loading and unloading a breeze. Constructed completely from metal, this add-on...
Kuat Piston Pro X Hitch Rack - 2-Bike Galaxy Gray, 2in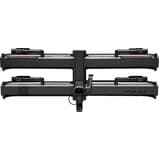 Modern bicycles are a marvel of engineering, but let's not forget the importance of a quality rack to get our steeds to and from the trailhead. Kuat has been a top contender for years, and their Piston Pro X represents the pinnacle of technology and ease of use. It uses two "touchless" arms that...
Kuat Piston Pro X Hitch Rack Add-On Galaxy Grey, 1-Bike
As our passion for cycling increases, so does our bike collection, so we pick up the Kuat Piston Pro X Hitch Rack Add-On when we need to haul three or four bikes along for the ride. This add-on quickly and easily transforms the two-bike Kuat PXA2G Piston Pro X 2 Bike Rack platform into an up to...
Kuat Pivot 2 Swing Away Extension Passenger Side/Black, 2in
Whether you drive a truck, sprinter van, Jeep, or SUV, using a hitch rack to transport your bikes can make it difficult to access the rear of your vehicle. The Pivot Swing Away Extension solves this problem by allowing you to swing your fully-loaded bike rack to the side for clear access to...
<< Prev | 1 | 2 | 3 | 4 | 5 | 6 | 7 | 8 | Next >>