Accessories Hydration Packs Bags Hydration Packs Hydration Packs - Small - Road Bike Shop
Shop
>
Sporting Goods > Outdoor Recreation > Hydration System Accessories
>
Accessories > Hydration Packs & Bags > Hydration Packs > Hydration Packs - Small
CamelBak Hydrobak Light Hydration Pack - Women's
The trail is the best place to spend the afternoon, and whether we're traveling in boots or on wheels, this basic pack keeps us hydrated. The main compartment snugly holds the included 1. 5-liter reservoir, and for everything else that we need, a minimalistic side pocket stashes only the essentials.
CamelBak Lobo 9L Backpack
A combination of storage and easy hydration is perfect for a long day on the trail. The Lobo 9L Backpack includes more than enough storage, complete with a large zippered outer pocket and integrated carry pockets to keep all of your tools organized in the bag. Hands-free hydration is easier than...
CamelBak Lobo 9L Backpack - Women's Charcoal/Black, One Size
The Women's Lobo 9L Backpack comes with all the features of the men's Lobo 9L, but with adjustments made specifically for a women's frame. An S-curved shoulder harness design fits perfectly to a women's body while the pack shape is designed to fit a women's torso, adding extra comfort and...
CamelBak Podium Flow Belt Fired Brick/Black, One Size
It's never a good idea to hit the trail without hydration, even if it's just for a quick lunchtime ride. That's why this low-profile lumbar pack will be such a valuable tool for the avid mountain biker. When you need just enough storage for a bit of water, your tools, and a snack or two, its got...
CamelBak Rogue Light 5L Hydration Pack
When even the midsummer sun can't keep us off the trail, we pack light with the Rogue Light Hydration Pack. This minimalistic backpack comes with its own reservoir, letting us haul the optimum amount of water without troubling us with too much extra weight. Its sleek, lightweight design is built...
DAKINE Classic Hip Pack Electric Magenta, One Size
Retail Price:
$24.00
Our Price: $9.60
buy now
We know you open your eyes every morning hoping that you've returned to the era of high-tops, moonwalking, and fist-sized floppy disks. The DAKINE Classic Hip Pack is here to comfort your tortured soul--and hold your grunge-rock cassette tapes. Two top zip compartments store daily sundries, and a...
DAKINE Drafter 10L Hydration Backpack Midnight Blue, One Size
Retail Price:
$150.00
Our Price: $82.50
buy now
We like to get after it on the bike trail, and the Dakine Drafter Hydration Bag makes sure we're always prepared to do just that. The Drafter has plenty of room for our rain jacket, tools, nutrients, and then some. Its included reservoir makes refueling on trail quick and easy. And if things get...
DAKINE Drafter 10L Hydration Pack - Women's Black/Moss, One Size
The downhill is worth the work, but the uphill still tries to take it out of us. The Drafter 10L Hydration Pack lets us bring along plenty of water and snacks while keeping our safety equipment secure through the climb. This minimalistic pack doesn't weigh us down or create uncomfortable hot...
DAKINE Hip Pack 8 Bit Floral, One Size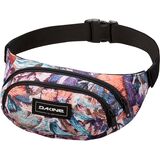 Retail Price:
$24.00
Our Price: $12.00
buy now
Since you're busy holding your phone with one hand and your beverage with the other, let the Dakine Hip Pack stash your wallet, cell, keys, and other small gear while you maneuver through the crowd.
DAKINE Hot Laps 1L Hip Pack Sierra Fossil, One Size
Retail Price:
$40.00
Our Price: $16.00
buy now
We don't need much for quick trips to the bike park after work. The Hot Laps 1L Hip Pack stores all we need, keeping our tools, tubes, energy bars, and water all comfortably close at hand.
<< Prev | 1 | 2 | 3 | 4 | 5 | Next >>