Mens Clothing Mens Triathlon Clothing Mens Tri Swim Mens Wetsuits - Road Bike Shop
Shop
>
Sporting Goods > Outdoor Recreation > Cycling > Unicycle Accessories
>
Men's Apparel Clothing > Men's Triathlon Clothing > Men's Tri Swim > Men's Wetsuits
Blueseventy Reaction Fullsuit - Men's Black, MT
Blueseventy's Reaction Fullsuit is an excellent choice for beginner and experienced triathletes alike, delivering quality performance and a durable construction that lasts through multiple training sessions and races. Neoprene thickness is perfectly placed from head to toe, adding supportive...
Blueseventy Sprint Fullsuit - Men's Black, MT
The Blueseventy Sprint Fullsuit is known as the most comfortable, entry-level wet suit on the market. Made for triathlons, the Spring features Yamamoto neoprene for flexibility and comfort and a 3-4-4 buoyancy profile to help lift the lower body for better body positioning and less drag while...
Blueseventy Thermal Reaction Fullsuit - Men's Black, SM
Built to help us conquer the cold waters of early-season racing, the Blueseventy Thermal Reaction Fullsuit is redesigned to promote more natural body rotation, increase our distance per stroke, and keep us warmer so we can do our best. 5mm thick panels of durable 39-cell Yamamoto neoprene are...
TYR Cat 2 Wetsuit - Men's Black/Blue/Orange, S/M
When we start training for a new sport, we want equipment that is high performing, but also affordable. The Cat 2 Wetsuit is more than ideal for beginner and intermediate triathletes who are looking for such an item. The neoprene-based wetsuit holds in heat to keep you warm in colder water and is...
TYR Hurricane CAT1 Wetsuit - Men's
While it lacks some of the premium features included in fullsuits that are upward of twice its price, the TYR Hurricane Cat1 Wetsuit still includes the same drag reduction, durability, uninhibited stroke movement, and easy on/off as TYR's top offerings. The Cat1 is the ideal choice for aspiring...
TYR Hurricane CAT3 Wetsuit - Men's Black/Red/Blue, M/L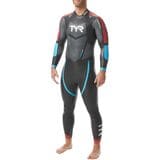 The Hurricane Cat3 Wetsuit incorporates many of the features of TYR's pro-level fullsuits to offer you a super sleek and flexible wetsuit at an affordable price. To start, the Hurricane Cat3 is entirely made of Yamamoto 38 Cell Nano SCS (Super Composite Skin) neoprene for increased buoyancy and...