Mens Clothing Mens Mountain Bike Clothing Mens Mountain Bike Accessories Mens Bike Hats Winter Bike Hats - Road Bike Shop
Shop
>
Sporting Goods > Outdoor Recreation > Cycling > Cycling Apparel & Accessories > Bicycle Helmets
>
Men's Apparel Clothing > Men's Mountain Bike Clothing > Men's Mountain Bike Accessories > Men's Bike Hats > Winter Bike Hats
45NRTH Baklava Winter Cycling Balaclava Black/Black, S/M
We protect our skin from the harshest of conditions with the technical wind-blocking 45NRTH Baklava Winter Cycling Balaclava. Featuring a merino wool-blend base fabric and flat-lock stitching, combined with a long neck-drape and wind-resistant nose/face coverage, we can ride throughout the winter...
Assos Assosoires Neck Foil Warmer
Retail Price:
$27.00
Our Price: $18.90
buy now
The Assos Assosoires Neck Foil Warmer is the perfect lightweight, packable accessory for summer rides where our descent brings a chill to our face and neck. We like it for its warmth, but also its versatility as we can wear it as a headband to wick sweat as we climb up the mountain before heading...
Assos Assosoires Spring Fall Neck Foil
An indispensable accessory. Few solutions are as universally applicable to cool-weather cyclings common problems as a well-made neck gaiter.
Assos Assosoires Ultraz Winter Face Mask blackSeries, 0
Since staying warm is impossible without staying dry, we made the main section a two layer, twinDeck construction that traps warmth on the inside and pulls moisture to the outside. The panel spanning chin,throat, and sternum is further reinforced against the cold with Winter Foam Light, a...
Assos Winter Cap blackSeries, II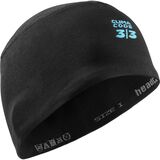 The ASSOS Winter Cap protects our heads from the bitter cold as we ride through the winter. Its double-knit layers of insulation trap heat to keep our forehead and ears extra warm and is extremely breathable to ensure we don't overheat when things warm up.
Assos Winter EVO Face Mask blackSeries, 0
There's no such thing as too much protection against cutting wind and icy temps, which is why we've got the Assos Winter Evo Face Mask on hand whenever winter shows its frigid face. The burly OSMOS Heavy insulation keeps us warm as the mercury drops, and the SPHERE 2L membrane does a great job of...
Castelli 3 Stagioni Neck Warmer Light Black, One Size
This lightweight head thingy is the perfect weight to keep the chill out on those early fall rides or to provide a little added protection from the sun's rays. Lightweight polyester for maximum moisture managementSeamless continuous tube constructionSublimated graphic3-season weightProtects from...
Castelli Bandito Cap
A thoroughly modern take on a traditional-looking piece. We use a merino wool layer over a polyester jersey liner the wool provides insulation and pulls the moisture away from the skin. The forehead and earflap are double layered for warmth, while the cap is thin enough to comfortably fit under...
Castelli Bandito Headband
Unexpected warmth in a thin, comfortable layer to keep your ears and forehead warm on cool days.
Castelli Bandito Skully Light Black, One Size
The simple, clean lines almost hide the warmth of this helmet liner. The mixture of wool and polyester fabrics allows the wool to insulate and pull moisture away from the polyester inner layer.
<< Prev | 1 | 2 | 3 | 4 | 5 | Next >>