Mens Clothing Mens Mountain Bike Clothing Mens Mountain Bike Accessories Mens Bike Hats Cycling Hats Caps - Road Bike Shop
Shop
>
Sporting Goods > Outdoor Recreation > Cycling > Cycling Apparel & Accessories > Bicycle Helmets
>
Men's Apparel Clothing > Men's Mountain Bike Clothing > Men's Mountain Bike Accessories > Men's Bike Hats > Cycling Hats & Caps
Assos Assosoires Rain Cycling Cap
With its 3-layer waterproof textile and element-blocking brim, the Rain Cap is essential for cold, wet riding conditions. We wanted the endlessly versatile cycling cap silhouette, but in a fully waterproof version, offering maximum coverage, breathability, and protection in a packable design....
Assos Assosoires Spring/Fall Headband
In spring and fall, a little insulation goes a much longer way than youd think, especially during hard efforts like punchy hill repeats or races. A lightly insulated headband keeps your ears and forehead protected from chill and wind while letting your body naturally regulate temperature through...
Assos Cap Fluo Pink, One Size
Retail Price:
$28.00
Our Price: $19.60
buy now
The Assos Cap is a classic cycling cap that keeps our head cool as we ride down the road, gravel, or trail.
Assos Equipe RS Cap blackSeries, One Size
Retail Price:
$38.00
Our Price: $26.60
buy now
Built to take over as the new essential cycling cap, the Equipe RS Cap steers away from full-cotton caps of the past to add performance and comfort. Cotton and polyester combine to offer quick-drying properties without sacrificing traditional comfort, while mesh panels increase breathability to...
Assos roboFoil G2 Cap blackSeries, I
Updated with an innovative construction for additional comfort, the roboFoil G2 Cap is our new go-to for keeping cool, dry and protected from the sun. It's designed to be ultrasoft against the skin thanks to a Foil fabric that goes sans annoying side seams. Circular seamless technology makes for...
Assos Spring Fall Cap blackSeries, I
The ASSOS Spring Fall Cap keeps our heads warm and protected from brisk spring and fall temperatures. Its circular seamless material provides excellent thermoregulation and breathability to ensure we stay as warm as needed without overheating. A double-layer construction on the ears and forehead...
Castelli #GIRO105 Cycling Cap Nero, One Size
Retail Price:
$29.99
Our Price: $20.98
buy now
#GIRO105 Cycling Cap
Castelli A/C 2 Cycling Cap Black, One Size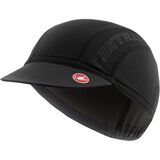 The Castelli A/C 2 Cycling Cap fits perfectly beneath our help to provide the comfort we seek on a hot summer day. Its mesh construction is lightweight and well-ventilated to keep things breathable, whether we're chasing KOMs or sipping a post-ride coffee at the cafe.
Castelli BB 1981 Sweat Set Black, One Size
Specifically designed for indoor cycling, the BB 1981 Sweat Set from Castelli is our go-to for keeping our hands dry and vision clear when we're pushing pace. The stretchy, synthetic fabric layup is quick drying for lasting comfort through heavy training sessions.
Castelli Classic Cap Black, One Size
While we mostly adhere to caps not hats, there are certain times when the classic baseball hat fits the bill a little better than a cycling cap. For those moments, usually when in mixed company, we still want to show our allegiance to one of our favorite cycling clothing brands, so we'll reach to...
<< Prev | 1 | 2 | 3 | 4 | 5 | 6 | Next >>