Mens Clothing Mens Road Bike Clothing Mens Road Bike Accessories Mens Gloves Mens Long Finger Cycling Gloves - Road Bike Shop
Shop
>
Sporting Goods > Outdoor Recreation > Cycling > Cycling Apparel & Accessories > Bicycle Gloves
>
Men's Apparel Clothing > Men's Road Bike Clothing > Men's Road Bike Accessories > Men's Gloves > Men's Long Finger Cycling Gloves
Assos RS Long Fingered Gloves TARGA - Men's
Superlight long-finger gloves for summer riding with high breathability, maximum grip, and touchscreen compatibility, recalibrated with a wrist cut that enables better freedom of movement.
Assos Spring Fall EVO Glove - Men's
The ASSOS Spring Fall EVO Glove protects our hands from brisk spring and fall temperatures with its durable nylon construction and insulated key areas. Its microfiber palm is soft and padded for optimal comfort on the handlebars and is also touchscreen compatible to allow for phone calls and map...
Castelli Arenberg Gel LF Glove - Men's Black, S
Retail Price:
$59.99
Our Price: $44.99
buy now
During summer rides on aggressive trail we're wearing the Castelli Arenberg Gel LF Glove to soak up some of the harsh terrain. This grippy glove has safety and security built into the soft gel padding, allowing us to grip the bars even while they're getting bashed by rocks and roots. The...
Castelli Estremo Glove - Men's Black, XL
With the right gear, we don't have to limit winter riding to a dank basement or crowded spin class at the gym. Gloves like Castelli's Estremo offer the coverage and weather protection for pedaling through those frigid months. The Estremo Glove is equipped with wind- and water-resistant...
Castelli Unlimited LF Glove - Men's Black, XXL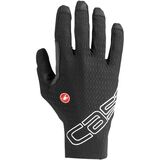 Retail Price:
$49.99
Our Price: $37.49
buy now
When the mercury drops and our early morning ride sees a bit of a chill, the Unlimited LF Glove comes in to save our fingertips from freezing. They're versatile enough to keep us covered from the cold or to protect from harsh vibrations when we're riding gravel roads. A stretch panel makes for an...
Giordana Tenax Pro Glove Strisce, XL - Men's
Retail Price:
$40.00
Our Price: $20.00
buy now
We searched the archives and brought back some of our most popular Moda designs from the late '80s and early '90s. The Moda collection recognizes the desire for individual expression and celebrates who you are on and off the bikeFor the ultimate statement in cycling apparel, Moda Retro designs...
Giro Bravo Gel LF Glove - Men's Highlight Yellow, XL
Retail Price:
$29.95
Our Price: $20.96
buy now
'Cross, cross-country, cross-continent--there are countless cycling situations where full finger coverage and light padding are appropriate additions to your kit drawer. Giro's Bravo Gel LF Gloves fit the bill, providing coverage without bulk and padding without muddying bar feel. They're built...
PEARL iZUMi ELITE Gel Full-Finger Glove - Men's
Retail Price:
$42.00
Our Price: $27.30
buy now
We've long ridden with the mantra 'if it ain't broken don't fix it,' and while we think this saying holds a lot of water in quite a few areas, we admit that it has its shortcomings. For example, if the designers at Pearl Izumi carried on with this mantra we wouldn't receive the generous updates...
PEARL iZUMi P.R.O. Gel Vent Full Finger Glove - Men's
Retail Price:
$50.00
Our Price: $32.50
buy now
With Direct Vent gel padding and 360 degrees of ventilation -- even in the padding -- Pearl Izumi's P. R. O. Gel Vent Full Finger Gloves mean total digit protection doesn't come at the cost of stifling layers between you and the cooling air. A grippy, durable synthetic palm also reduces...
POC AVIP Full-Finger Glove - Men's
Retail Price:
$54.95
Our Price: $27.47
buy now
The AVIP Long Glove has a ventilated and reinforced palm for a more comfortable ride and allows for the closest possible contact with the bike. The glove has silicone print for excellent grip, is touch screen compatible and the back of the hand is made of durable and breathable nylon fabric.
<< Prev | 1 | 2 | Next >>