Mens Clothing Mens Mountain Bike Clothing Mens Mountain Bike Accessories Mens Mountain Bike Gloves Mens Long Finger Mountain Bike Gloves - Road Bike Shop
Shop
>
Sporting Goods > Outdoor Recreation > Cycling > Cycling Apparel & Accessories > Bicycle Gloves
>
Men's Apparel Clothing > Men's Mountain Bike Clothing > Men's Mountain Bike Accessories > Men's Mountain Bike Gloves > Men's Long Finger Mountain Bike Gloves
100% Celium Glove - Men's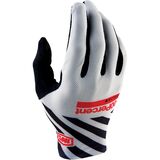 Retail Price:
$29.50
Our Price: $23.60
buy now
For those of us who appreciate direct contact to the bars we're wearing the 100% Celium Gloves on cross-country and road rides. With no cuffs or closures, this glove is guaranteed comfortable and dry for the entire ride.
100% Cognito Glove - Men's
Keep your paws protected when you get a little rowdy with a little help from the Ride 100% Cognito D30 Gloves. The cognito gloves are designed to be a confidence booster, adding D30 armor to the knuckles for protection against major impacts, while flexible synthetic fabric holds up to abrasion...
100% Geomatic Full Finger Glove - Men's Black/Charcoal, M
Retail Price:
$34.50
Our Price: $27.60
buy now
Grip, protection, and comfort all come together to make the Geomatic Full Finger Glove one of our favorites for versatile and reliable performance. Sharp-looking thermoplastic rubber detailing on the backs of the hands adds extra protection when the trail gets tight, while perforated palms...
100% R-Core Glove - Men's
Retail Price:
$36.50
Our Price: $29.20
buy now
Ready yourself for high-speed singletrack rides with the 100% R-Core Glove. Four-way stretch material increases mobility and durability to provide a secure grip and resist snagging branches, while the neoprene cuff offers a smooth fit that won't slip in the middle of the ride. A single-layer...
100% Ridecamp Glove - Men's
Retail Price:
$24.50
Our Price: $19.60
buy now
Replace your bulky, mismatched gloves with the streamlined 100% Ridecamp Glove this season and enjoy miles of precise shifts and lever throws on everything from brown pow, to mud, to moon dust. This versatile trail glove comes sans padding, so there's no risk of extra bulk getting in your way of...
100% Sling Glove - Men's
Now you can ride with the feeling like you are not wearing gloves yet take comfort knowing you are covered.
7 Protection Control Glove - Men's
Retail Price:
$33.99
Our Price: $20.39
buy now
7iDP Control Gloves are well vented and lightweight. The minimal, ventilated fabric is perfect for warmer days or riders who prefer less 'glove' between them and the bike.
7 Protection Project Glove - Men's
Retail Price:
$35.99
Our Price: $21.59
buy now
The 7iDP Project glove is a no-compromise, mountain bike specific glove designed for racing and ride performanceFeatures: Knuckle insert to protect your two outside fingers from trees and shrub impacts AX 4 way stretch perforated palm Ripstop 4 way stretch...
7 Protection Transition Glove - Men's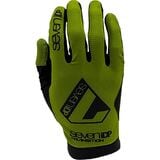 Retail Price:
$26.99
Our Price: $16.19
buy now
The Transition glove is our lightest, with performance and dexterity the top priority. The Transition is perfect for anyone looking to get the best feedback through their grips without sacrificing comfort.
Assos Trail FF Glove - Men's
Battle fatigue, but let your skin breathe with Assos' Trail FF Gloves. These breathable mitts offer 3D mesh uppers that elevate moisture management by actively pulling perspiration away from your skin, and letting fresh air in. The palm continues with 3D mesh, aiding in breathability, but...
<< Prev | 1 | 2 | 3 | 4 | 5 | 6 | 7 | 8 | 9 | 10 | Next >>