Bikes Road Bikes Custom Road Bikes Frames - Road Bike Shop
Shop
>
Sporting Goods > Outdoor Recreation > Cycling > Bicycles
>
Bikes > Road Bikes > Custom Road Bikes & Frames
Bianchi Infinito CV Disc Road Bike Frameset
Retail Price:
$4,900.00
Our Price: $3,200.00
buy now
The Bianchi Infinito CV Disc Road Frameset is redefining how we conceptualize race bikes. In stark contrast to the super-aggressive, slammed geometries we so often associate with racing, this frameset offers a more relaxed position with a slightly taller head tube and elongated wheelbase for...
Bianchi Oltre XR4 Disc Brake Road Bike Frameset - 2021 Black/Graphite Gloss, 57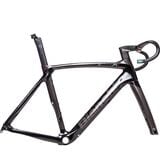 Retail Price:
$6,175.00
Our Price: $3,999.00
buy now
Here at the office, we love all the bikes we sell and we try not to play favorites too often, but something about Bianchi bikes makes it our pick of the litter with its road bike offerings. Great looking, sublime ride qualities, and a list of palmares that other brands can only dream of, Bianchi...
Bianchi Oltre XR4 Disc Road Bike Frameset Grey, 55cm
Bianchi bikes are steeped in tradition, yet continue to evolve in a sport where the width of a tire matters just as much as aerodynamic advantages when it comes to speed. That's part of why we choose Bianchi more often than not when it comes down to it. The Oltre XR4 Disc Road Bike Frameset...
Bianchi Specialissima Disc Road Bike Frameset
The Specialissimia has long been Bianchi's award-winning road bike, snagging podiums ever since its first iteration back in the '50s. Bathed in the brand's iconic Celeste color, for over half a century we've witnessed various incarnations of this celebrated steed brave races and roads around the...
Cervelo Caledonia 5 Road Frameset
The Caledonia 5 Frameset is made for riders who favor the speed and aerodynamics of road-specific designs but are also intrigued by the sense of adventure supplied by gravel riding. Cervelo combines a relatively short wheelbase and 936 gram frame to satisfy the efficiency needs of a road cyclist....
Cervelo Caledonia Road Frameset Gloss Black, 58
Retail Price:
$2,700.00
Our Price: $1,899.00
buy now
Whether we're looking for a new setup for weekly group rides or a daily lunchbreak spin, the Cervelo Caledonia Road Frameset is ready for anything. Built with a Cervelo All-Carbon frame and fork, we are provided with a lightweight, durable, and comfortable frame that will meet all our...
Cervelo R5 Road Frameset Lime/Black, 54cm
The R5 Road Frameset from Cervelo checks our boxes for Grand Tours and 6-hour cobbed classics thanks to its featherweight build and efficient feel. Add to that an aggressive pro-worth geometry and you'll quickly understand how this brand from Canada has racked up some of the sport's biggest...
ENVE Melee Road Frameset Damascus, 54cm
Built solely for speed, the Melee Frameset is a dream for road racers who seek a high-performance, versatile racing setup. Its carbon monocoque construction reduces the overall weight and increases the aerodynamics of the frame, allowing for a fast and efficient ride. The Melee is tuned for...
Pinarello Dogma F Disc Road Frameset
We see the Dogma from Pinarello as a top-performance racing machine that takes on rugged, rigorous courses with no holds barred. The Dogma is the pinnacle of success in the racing industry, and it has ridden first across the finish line more times than we can count. It's the culmination of...
Pinarello Dogma F12 Disk Brake Road Frameset
Retail Price:
$6,500.00
Our Price: $5,200.00
buy now
Sleek, aerodynamic, and ready to power through our next high-paced ride is the Pinarello Dogma F12 Disk. This premium race bike is proven at the highest levels of cycling including 3 Grand Tour wins, making it a powerful steed for achieving our training and racing goals. The F12 Disk is designed...
<< Prev | 1 | 2 | Next >>