Bikes Ebikes Ecommuter Bikes - Road Bike Shop
Shop
>
Sporting Goods > Outdoor Recreation > Cycling > Bicycles
>
Bikes > Ebikes > Ecommuter Bikes
Gazelle Arroyo Elite C7 e-Bike Saturn Blue Matte, 57cm
The classic Dutch-style bike meets modern technology with the Arroyo Elite C7 e-Bike. It's a bike for commuting or meandering around town with a lighthearted purpose. The Arroyo Elite C7 is stealthily powerful with a Bosch Active Line Plus motor that offers max speeds up to 20mph and a 500Wh...
Gazelle Arroyo Elite C8 e-Bike
The Gazelle Arroyo Elite C8 e-Bike has us feeling that joyful spirit that accompanies commuting with an e-bike ready to take us anywhere we want to go around town. It's a Dutch-style bike, which means we envision picnics by tulip fields and rides by old-fashioned windmills and breweries. Of...
Gazelle Medeo T9 e-Bike Ice Blue, 55cm/Low Step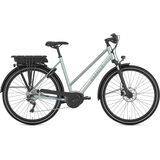 The Medeo T9 e-Bike helps us enjoy the steep streets of San Francisco and speed across the flats of the Netherlands. It's the ideal companion for exploration and for enjoying the ride. A powerful motor lets us leave our worries behind, and a commuter style promotes comfort. Shimano components...
Gazelle Ultimate C380 Plus e-Bike
While some riders balk at a steep road during their commute we relish it while on the Gazelle Ultimate C380 Plus e-Bike. When the gradient pitches up we simply throw down the bike to a sportier mode and cruise up with ease. Made with an internal hub and small suspension in the front and rear we...
Gazelle Ultimate C8 e-Bike Petrol Matte, 46cm/Low Step
With 129 years of production under their belt, Gazelle designs the Ultimate C8 e-Bike with two features in mind: Comfortability and speed. This is a bike that's sporty and fun, but also comfortable enough to make us want to zoom around all day. Confidence-boosting stability comes from a low...
Gazelle Ultimate T10 Plus e-Bike Orion Blue, 53cm
Sure, the ride to work is nearly all downhill at the start, but we all know that uphill on the way back will be a tough one, and that's why we're riding the Ultimate T10 Plus e-Bike. It's a speedy take on a modern design with nimble handling and exceptional agility, plus it features 80mm of...