Components Wheels Tires Tubes Wheels Wheel Small Parts - Road Bike Shop
Shop
>
Sporting Goods > Outdoor Recreation > Cycling > Bicycle Parts > Bicycle Wheels
>
Components > Wheels, Tires, Tubes > Wheels > Wheel Small Parts
DT Swiss 240S Road Freehub Body
Change out your drivetrain and keep your favorite set of wheels with the DT Swiss 240S Road Freehub Body. Available in both Shimano/SRAM and Campagnolo versions, the freehub makes matching your new component group a breeze--no need to buy a new set of wheels.
DT Swiss 3-Pawl Freehub Body and End Cap
Whether we're replacing a worn-out freehub body or converting a set of hubs for different rear-wheel spacing, the 3-Pawl Freehub Body does the trick. It's compatible with Boost spacing, traditional spacing, and quick-release axles as well as XD/XTR cassette body types.
DT Swiss End Caps Front, 12x100mm CL
The DT Swiss End Caps allow conversion of existing DT Swiss hubs between different wheel spacing standards, or can serve as a replacement for missing or lost end caps. Specific compatibility is described below for the various options in the drop-down menu. The 12 x 100mm option is compatible with...
DT Swiss EXP Mountain Freehub Body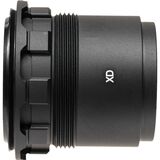 Whether we're switching between SRAM and Shimano cassettes or just need a replacement freehub for our DT Swiss wheels, we find everything we need with this EXP Mountain Freehub Body.
DT Swiss EXP Road Freehub Body Black, Campagnolo N3W
DT Swiss' EXP Road Freehub Body seamlessly pairs with your DT Swiss Ratchet System Hub for easy, tool-free install. This particular freehub is available for SRAM XDR 12-speed, HG 10-11 speed Shimano or SRAM cassettes, and Campagnolo 10-12 speed cassettes.
DT Swiss Mountain Freehub Body
If you're running a DT Swiss 240, 350, or 440 rear hub, and you damage your 9/10-speed freehub body, or simply want to swap from a SRAM XD (1x11) drivetrain to a 2x or 3x 9/10-speed one, you'll want this, the DT Swiss Mountain Freehub Body. Compatible with all non-XD Shimano and SRAM drivetrains,...
DT Swiss Shimano Micro Spline Freehub
Like all moving parts, freehub bodies will need to be replaced over time. When that happens, we'll turn to the Shimano Micro Spline Freehub. DT Swiss' Shimano Micro Spline Freehub matches with the brand's hubs and conveniently fits Shimano 12-speed mountain bike cassettes.
DT Swiss Thru Bolt Conversion End Caps Black, Rear, 10mm, 180/240/350
The DT Swiss Thru Bold Conversion End Caps seamlessly adapt newer DT Swiss wheels to accept older axle standards, so long as you're running a compatible DT Swiss RWS thru-bolt (not included) in either 9 (front) or 10-millimeter (rear) diameters. The 9-millimeter front adapter works with DT Swiss...
DT Swiss Torque Cap End Caps Black, for 240s hubs
The DT Swiss Torque Cap End Cap is a simple little item that nets surprising gains when paired with compatible hubs and forks. The full system involves a more robust fork/hub interface that hinges on the Torque Caps' increased contact area with the fork. This makes for a stiffer front end that...
e*thirteen components TRS Wheelset Decal Kit - 27.5in
Retail Price:
$20.00
Our Price: $11.40
buy now
TRS Wheelset Decal Kit - 27.5in
<< Prev | 1 | 2 | 3 | Next >>