Components Wheels Tires Tubes Tubes Accessories Mountain Tubes - Road Bike Shop
Shop
>
Sporting Goods > Outdoor Recreation > Cycling > Bicycle Parts > Bicycle Tubes
>
Components > Wheels, Tires, Tubes > Tubes & Accessories > Mountain Tubes
Continental Tubes - 27.5in
Retail Price:
$8.95
Our Price: $2.82
buy now
Contiental makes its tubes with tough Butyl rubber, which is known to hold air better than other compounds. These strong, lightweight tubes feature a 42mm Presta valve stem.
Continental Tubes - 29in
Retail Price:
$8.95
Our Price: $7.00
buy now
We never know for sure when we'll have to put in a fresh tube, so we save ourselves the trouble of walking home by keeping a spare Continental 29in Tube with us. It will fit easily into a seat pack or back pocket, making it easy to keep on hand when an unwanted flat comes our way.
Michelin 26in Airstop Presta Mountain Tube 2.20, 60mm
Retail Price:
$10.99
Our Price: $7.19
buy now
While we often stand on our soapbox to advocate tubeless technology for mountain bike tires, the truth remains that we always carry tubes with us on serious adventures into the backwoods. At that point we want something economical and reliable. These Michelin MTB Airstop Presta Tubes are all of...
Michelin 26in AirStop Schrader Mountain Tube Black, 26x1.45-2.6, 34mm Schrader Valve
Introducing the Michelin 26in AirStop Schrader Mountain Tube, designed to enhance your outdoor biking adventures! Engineered with a high-quality butyl rubber material, it provides exceptional air retention, minimizing the need for constant reinflation. The Schrader valve ensures compatibility...
Michelin AirStop 26in Tube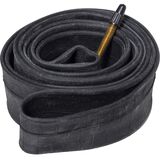 Retail Price:
$10.99
Our Price: $8.75
buy now
AirStop 26in Tube
Michelin AirStop 29in Tube Black, 29x1.9-2.125mm, 40mm Presta Valve
Enjoy a smoother ride with Michelin's AirStop 29in Tube. Ideal for off-roading or city cycling, this bike component enhances your control and stability, ensuring a safer and more enjoyable outdoor experience. Its robust construction offers superior puncture resistance, reducing the risk of flats,...
Michelin Protek Max 26in Tube Black, 26x1.85-2.30, 34mm Schrader Valve
Maximize your biking experience with Michelin's Protek Max 26in Tube. Engineered for superior durability, this bike component guarantees a smoother, safer ride on any terrain. Its self-sealing technology handles punctures instantly, ensuring uninterrupted adventures. Plus, the unique design...
Pirelli SporTUBE Presta Valve Tube Black, 700x32-40mm/48mm
Retail Price:
$8.90
Our Price: $8.01
buy now
The SporTUBE is the most classic cycling inner butyl tube range, the standard interpretation of the most used air retention system in the world A complete range with the size and specification for every kind of cyclist and discipline, from road cycling to urban commuting
Q-Tubes 20in Standard Schrader Tube
Retail Price:
$7.99
Our Price: $4.55
buy now
20in Standard Schrader Tube
Q-Tubes 24in Standard Schrader Tube
Retail Price:
$7.99
Our Price: $5.59
buy now
24in Standard Schrader Tube
<< Prev | 1 | 2 | 3 | 4 | 5 | Next >>