Components Wheels Tires Tubes Tires Road Tires Road Tubeless Tires - Road Bike Shop
Shop
>
Sporting Goods > Outdoor Recreation > Cycling > Bicycle Parts > Bicycle Tires
>
Components > Wheels, Tires, Tubes > Tires > Road Tires > Road Tubeless Tires
Continental Grand Prix 5000 AS TR Tire Black/Cream, 25mm, Black Chili
The Continental Grand Prix 5000 AS TR Tire keeps us confidently rolling through all four seasons, thanks to its exceptional grip, rolling resistance, and flat protection. Whether we're looking for a race or daily commuting tire, the Continental Grand Prix 5000 AS TR Tire delivers with its...
Continental Grand Prix 5000 S TR Tire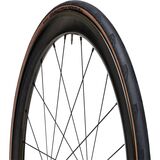 Retail Price:
$103.95
Our Price: $79.97
buy now
Continental's Grand Prix 5000 S TR Tire lets us ride faster and more comfortably with the knowledge that we have increased puncture protection on our side. It's made to roll at racing pace, and it features stronger sidewalls along with Lazer Grip for superb cornering control. The BlackChili...
Donnelly Strada USH 650b Tubeless Tire
You're a fan of the unpredictable, winding roads that take you to remote destinations that most folks only visit in their dreams. And while you most certainly have the dedication and drive to conquer the roads less traveled, finding tires that can take them on can pose a challenge. Fortunately...
Donnelly Strada USH Tire - Tubeless Black, 700 x 32mm
Your sense of adventure runs deeper than winding canyons and oceanic trenches, and you're not one to be limited when atop your trusty steed -- designers at Donnelly seem to understand you hankering with the Strada USH Tubeless Tire. Named for the Ushuaia airport on Argentina's southern-most city...
Donnelly X'Plor CDG Tire - Tubeless Black, 700x30
When it comes to Spring Classics, the Roubaix is hard to beat, that's why Donnelly named the X'Plor CDG Tubeless Tire after the Charles De Gaulle airport in Paris. With a center of tightly packed mini-knobs for traction through the pave, the X'Plor CDG are ready to take on cobbled streets that...
ENVE SES Tubeless Road Tire Tan, 700x25mm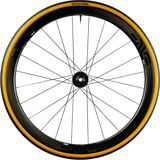 For increased confidence, improved rolling efficiency, and enhanced aerodynamics from Enve, we recommend their SES Tubeless Road Tire. Enve crafted this tire with real-world performance and aerodynamics in mind. They're proven in CFD and optimized to reduce drag through wind tunnel testing, plus...
Goodyear Connector Ultimate Tubeless Tire Black, 700 x 40mm
Whether we're crushing Kansas flintstone or digging hard through Texas gravel the Goodyear Connector Ultimate tire helps see us through to the finish. Built for the long haul, these gravel-specific tires are what we're mounting on our gravel race bikes. With up to a 50mm overall width, ride...
Goodyear County Ultimate Tubeless Tire Tan, 700 x 40mm
When our rides consist of a mix of pavement and dirt roads, we're happy to run the Goodyear County Ultimate Tire. A low-profile center tread gives us quick accelerations with low rolling resistance, and when the corners get tricky we're glad to have prominent side knobs to keep us in control.
Goodyear Eagle F1 Tubeless Tire Black, 700 x 25mm
The Eagle F1 Tire is Goodyear's ultra high-performance road race tire that can tackle everything from cobblestone to smooth tarmac with ease. It features improved grip, rolling resistance, and longer-lasting wear. Plus, it features all of the benefits of a tubeless-ready tire with additional air...
Goodyear Peak Ultimate Tubeless Tire Tan, 700 x 40mm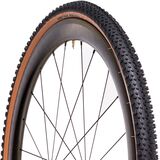 Retail Price:
$64.00
Our Price: $51.20
buy now
Peak Ultimate Tubeless Tire
<< Prev | 1 | 2 | 3 | 4 | 5 | 6 | 7 | Next >>