Components Wheels Tires Tubes Tires Mountain Tires Mountain 275 Tires Mountain 275 Tubeless Tires - Road Bike Shop
Shop
>
Sporting Goods > Outdoor Recreation > Cycling > Bicycle Parts > Bicycle Tires
>
Components > Wheels, Tires, Tubes > Tires > Mountain Tires > Mountain 27.5" Tires > Mountain 27.5" Tubeless Tires
45NRTH Kahva Studded Tubeless Tire - 27.5in Black, 60tpi, 2.1in, 240 Concave Carbide Studs
Retail Price:
$185.00
Our Price: $138.75
buy now
Our winter trail rides or daily commutes become much easier and safer with the 45NRTH Kahva Studded Tubeless Tire. This 27. 5in tire features concave carbide studs to provide unmatched traction on slippery trails or roads, while the side lugs and siping on the center tread conform to the terrain...
45NRTH Wrathchild Studded Tubeless Tire - 27.5 Plus
Retail Price:
$175.00
Our Price: $131.25
buy now
When the snow and ice can't stop us from getting out on our bikes, the 45NRTH Wrathchild Studded Tubeless Tire is the answer. Featuring a three-inch-wide tire and loaded with 252 carbide aluminum studs, the Wrathchild Studded Tubeless Tire supplies unrelenting traction on icy and snow-covered...
Continental Argotal 27.5in Tire
Retail Price:
$69.95
Our Price: $63.00
buy now
The Continental Argotal 27. 5in Tire provides the optimal rolling resistance, grip, and weight to make it our ideal tire for loose terrain. They feature widely-spaced ramped single and dual-siped tread for extra grip, providing cornering confidence as they bite into unstable terrain.
Continental Hydrotal 27.5in Tire DH Casing, SuperSoft Folding, Black, 27.5 x 2.4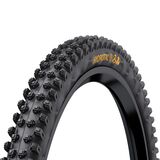 Retail Price:
$99.95
Our Price: $90.00
buy now
A specialist tire for downhill and a super soft compoundoption for racing. Balances grip and rolling resistance with a self-cleaning tread that ensures continuous grip when youre shredding through muddy, slippery conditions.
Continental Kryptotal-F 27.5in Tire
Optimized for front wheel, this all round tire balancesstability of grip, traction for braking and rolling resistance. Ideal for mixed terrain conditions for you to push your limits in trail, enduro or downhill gravity riding.
Continental Kryptotal-R 27.5in Tire Trail Casing, Folding, Black, 27.5 X 2.4
The Continental Kryptotal-R 27. 5in Tire is a rear tire that balances grip, traction, and rolling resistance to optimize our ride during trail, enduro, or downhill riding. It features Continental's Black Chili compound to support any riding style, while the carcass construction protects against...
Continental Xynotal 27.5in Tire Trail Casing, Folding, Black, 27.5 X 2.4
Retail Price:
$64.95
Our Price: $55.21
buy now
Perfect for hardpack, rocky surfaces. With low rolling resistance and contact edges for improved traction and braking, you can enjoy a fast gravity ride with the confidence of continuous grip when you need it most.
Kenda Pinner 27.5in Tire Black, 27.5x2.40 60tpi
The Pinner is Kenda's newest dry condition gravity tire. The Pinner shines with excellent cornering predictability and particularly high puncture protection. Available with AGC or ATC casing, the Pinner is an excellent choice for gravity racers and trail riders alike.
Maxxis Aggressor EXO/TR 27.5in Tire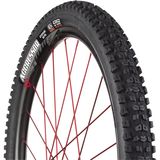 Retail Price:
$82.00
Our Price: $61.50
buy now
Take Maxxis' Aggressor EXO/TR Tire with you on the days you show up ready to blast through technical singletrack and take on big descents. We can't promise it'll make your lines more aggressive, but its rugged construction and confident traction will make sure you don't have to hold back when you...
Maxxis Aggressor Wide Trail Double Down/TR 27.5in Tire
Retail Price:
$106.00
Our Price: $79.50
buy now
There's something to be said for the weightless feeling you get when you're booking it into a banked berm, and holding on sideways with your tread locked in, getting ready to be boosted back out onto chunky singletrack with roots and rocks ahead. There is, however, and inherent risk -- this risk...
<< Prev | Back | 1 | 2 | 3 | 4 | 5 | 6 | 7 | 8 | 9 | 10 | More | Next >>