Components Forks Cockpit Pedals Stems Mountain Stems - Road Bike Shop
Shop
>
Sporting Goods > Outdoor Recreation > Cycling > Bicycle Parts > Bicycle Stems
>
Components > Forks, Cockpit, Pedals > Stems > Mountain Stems
5DEV 2 Bolt Titanium 35mm Stem
VRTS - Variable Radius Geometry - 2 Bolt Stem that installs on any rise bar without shims, scratches, or effort! Yes, it's easier to install vs a 4 bolt stem. Each stem package includes Black 31. 8mm Aluminum Shims so you can run your stem on any size bar.
Chromag BZA 35 Stem Blue, 35mm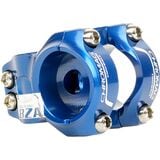 Retail Price:
$147.00
Our Price: $124.95
buy now
Built with some of the strongest alloy materials in a lightweight package we trust the Chromag BZA 35 Stem to hold up through all our rowdy endeavors. These blingy stems are more than just tough, and they come in a number of stylish colors to match up to our bikes. Built in varying lengths up to...
Chromag HIFI 35 Stem Silver, 50mm
Retail Price:
$106.00
Our Price: $90.00
buy now
We trust Chromag's HIFI 35 Stem to hold up to all of our mountain biking endeavors, but that durability is no sacrifice for lightness. A tough alloy construction stands up to all of the wear and tear that comes with biking, and CNC'd machining means unwanted grams are left behind. It comes in a...
Chromag HIFI V2 Stem Black, 50mm
Retail Price:
$102.00
Our Price: $92.00
buy now
While a new stem doesn't always inspire the same delight as a new wheelset, it can still change the way our ride feels for the better. Chromag's HIFI V2 Stem delivers the control and response we need, and it's super lightweight with the right amount of stiffness for precise steering and enhanced...
Chromag Ranger V2 Stem Purple, 70mm
When it comes down to it, we want our stem to be strong and lightweight, and capable of handling everything a trail could throw our way. The Ranger V2 Stem is up for the job. It's constructed with durable alloy and CNC machined to shed unwanted grams. Sharp, clean lines and an intricate design...
Deity Components Cavity Stem
On its own, the Deity Components Cavity Stem resembles a large, metal, anodized tooth, which hints at its strength to confidently connect your steerer tube and handlebars. Precisely machined out of 6061 T6 aluminum, the stem features a wide stance and a beefy 55mm faceplate that distributes force...
Deity Components Copperhead 35mm Stem Red, 50mm
Charge down root-latticed treelines with total control on your side, thanks to some help from Deity Components' Copperhead 35mm Stem. This sleek stem is CNC machined with precision in mind out of a burly solid block of 6061 T6 aluminum, offering exceptional strength, with minimal weight. Now with...
Deity Components Copperhead Stem Platinum, 35MM
Attack everything from uphill slogs to daring downhill runs with the Deity Copperhead Stem. It's machined from a solid block of 6061 T6 aluminum for exceptional strength with a lightweight feel, and Deity's renowned attention to detail can be clearly seen when you're admiring this work of art.
Easton EA70 Stem
Occasionally, cycling involves taking risks, but equipment should never be one. Especially when it's the stem, and when the risks you are taking involve sweeping descents just below the speed-wobble ceiling. With its reliable, sturdy EA70 alloy construction and a proven pedigree of performance,...
Easton EA90 Stem Black, 7 degree/120mm
Stems need to be strong, durable, and light, and it mustn't crush the handlebar and fork clamped on either end. Easton addresses all of those details with its updated EA90 Stem that's a larger diameter and finished in a lovely Black anodization that's sure to look great on any bike. Furthermore,...
<< Prev | 1 | 2 | 3 | 4 | Next >>