Components Forks Cockpit Pedals Saddles Womens Saddles Womens Mountain Bike Saddles - Road Bike Shop
Shop
>
Sporting Goods > Outdoor Recreation > Cycling > Bicycle Parts > Bicycle Saddles
>
Components > Forks, Cockpit, Pedals > Saddles > Women's Saddles > Women's Mountain Bike Saddles
Ergon SR Pro Saddle - Women's Black, Small/Medium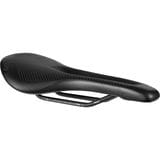 Designed and ridden by world champion Pauline Ferrand Prevot, the Ergon Women's SR Pro Saddle provides a fine-tuned balance of pressure-relieving comfort, low friction for greater mobility in the saddle, and lightweight construction that's suitable for competitive racing and training pursuits....
Ergon SR Sport Gel Saddle - Women's
Don't toss comfort to the wind when you're bringing your power to the peloton. Instead, saddle up on the Ergon SR Sport Gel Saddle for Women and take the sting out of chattery roads and crushing climbs. This women's-specific take on the saddle is built for flawless comfort throughout the miles,...
WTB Deva Cromoly Saddle Black/Black, Medium
Retail Price:
$95.95
Our Price: $67.17
buy now
Much like the WTB Koda, the female-focused WTB Deva Cromoly Saddle is designed to suit the female form on the bike. However, since we are all mature and living in an open-minded society, the Deva has also been a favorite amongst male riders who are willing to overlook the name and see the saddle...
WTB Deva Steel Saddle - Women's Black/Black, Medium
The Deva Steel Saddle is among the most beloved WTB saddles for a reason. It's a versatile saddle that appeals to a wide range of riders, from road cyclists to gravel grinders, and its flat profile allows for numerous seated positions while its short nose makes for easy transitions on and off...
WTB Deva Titanium Saddle Black/Black, Medium
Retail Price:
$142.95
Our Price: $100.07
buy now
The Deva Titanium Saddle is versatile enough to take on everything from winding gravel roads to rocky trails and enduro racing. It offers a generous amount of padding and easy on-off transitions thanks to a shorter nose. A flat profile means we'll have more real estate for positioning, and...
WTB Speed She Steel Saddle Black, Wide
Female-focused saddles are becoming more specified to our needs as mountain bikers and the Speed She Steel Saddle is no exception. It features an ergonomic shape with smooth curves and low-profile stitching. Thick padding and a rounded profile make for easy riding with this saddle and easy...