Components Forks Cockpit Pedals Saddles Mens Saddles Mens Mountain Bike Saddles - Road Bike Shop
Shop
>
Sporting Goods > Outdoor Recreation > Cycling > Bicycle Parts > Bicycle Saddles
>
Components > Forks, Cockpit, Pedals > Saddles > Men's Saddles > Men's Mountain Bike Saddles
Chromag Juniper LTD Saddle Metallica, 141mm
Retail Price:
$90.00
Our Price: $76.50
buy now
Chromag designed the Juniper LTD to be an efficient road saddle that capitalizes on performance and comfort. While it is made for a women's specific fit, this saddle features a sleek, medium-profile platform that is also comfortable for men. The Juniper LTD offers the same features as the...
Chromag Juniper Saddle
Retail Price:
$86.00
Our Price: $73.10
buy now
The Juniper is a performance oriented women's saddle with a firm, sleek, medium-profile platform. Widely considered our most comfortable saddle by women and men alike, the wide nose provides friendly contact in technical manoeuvring situations. Features a synthetic durable top (DT) and Chromoly...
Chromag Lift Saddle
The Chromag Lift Saddle is what we use when we're getting ready to ride trail all day and not be sore later. This fun-colored saddle has us eager to get on our bikes and the sturdy design means it'll be on our bikes for plenty of rides to come. The saddle adds additional comfort and features...
Chromag Lynx DT Saddle
Retail Price:
$105.00
Our Price: $94.50
buy now
Chromag designed the Lynx DT Saddle for trail riders and DH riders who are constantly in and out of the saddle. Less surface area also happens to mean less weight, so we love that Chromag gave the Lynx firm padding with a narrow mid-section for efficient pedaling. The rounded perimeter makes the...
Chromag Mood DT Saddle Black/Orange, 135mm
Designed with a low profile and a firmness that's worthy of downhill and freeride applications, the Mood DT Saddle is what we're looking for when we need some extra durability for our ride. It's slightly more forgiving than Chromag's previous Mood saddle with an extra couple millimeters of...
Deity Components Speedtrap AM Saddle
You want to ride in style, but comfort isn't an afterthought either, which is why Deity and SDG teamed up to create the perfect saddle that combines the two with the Speedtrap AM Saddle. This ride-ready saddle combines mid-density EVA foam for long ride comfort, with a soft synthetic cover that...
Ergon SM Comp Saddle - Men's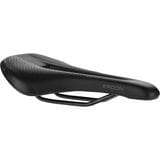 Whether you're headed out for an all-day epic, or just going for a quick rip on your local trails, Ergon's SM Comp Saddle provides the comfort and support needed to master any ride. It's part of a new generation of pressure-relieving saddles from the German based brand, and is optimized for...
Ergon SM Pro Saddle - Men's
From multi-day tours through the mountains to post-work laps on your favorite trails, the SM Pro Saddle ensures you no longer need to live with discomfort on any ride. This new generation of pressure-relieving saddles is tailored to the male anatomy, and optimized for the requirements of MTB...
Ergon SM Sport Saddle - Men's Black, Medium/Large
The Ergon SM Sport Saddle is an all-around mountain bike saddle built for touring, trail riding, and all-mountain shredding. Using a team of experts ranging from sports scientists to professional riders, Ergon designed the SM Sport specifically for the male anatomy and optimized it for the...
Fi'zi:k Aidon Terra X3 Saddle Black, 145mm
A short-nose saddle designed for pedal-assisted bikes with X3 ultra-strong Kium alloy rail systems.
<< Prev | 1 | 2 | 3 | 4 | Next >>