Components Forks Cockpit Pedals Handlebars Road Handlebars Drop Handlebars - Road Bike Shop
Shop
>
Sporting Goods > Outdoor Recreation > Cycling > Bicycle Parts > Bicycle Handlebars
>
Components > Forks, Cockpit, Pedals > Handlebars > Road Handlebars > Drop Handlebars
Cervelo AB09 Flared Carbon Gravel Bar
Gravel being a mix of road and mountain bike tech means the the Cervelo AB09 Flared Carbon Gravel Bar fits right in on our rigs. The bar includes carbon construction inspired by road warriors and the comfortable flare coming from the gravel world. The construction helps dampen a bit of harsh...
Cervelo Carbon Aero Road Bar Black, 42mm
Cervelo's carbon construction is known for its stiffness where you need it, and compliance where you crave just a bit of give, so its a no-brainer when it comes to the cockpit that you'd want to employ a bit of the brand's magic as well. The Carbon Aero Road Bar provides a stiff platform that's...
Cervelo HB-HB14 Carbon Handlebar Carbon, 44cm
The Cervelo HB-HB14 Carbon Handlebar, designed for use with the Cervelo S5's V-stem, allows us to dial in on our perfect setup for our dream road bike. Its unique shape provides a flat bar-to-hood transition for optimal riding comfort, while the two-bolt interface provides infinite tilt...
Cervelo HB13 Carbon Road Bar
Cervelo's updated HB13 Carbon Road Handlebar ticks all the boxes for a high-end road bar with an ergonomic shape that keeps our hands happy whether we're climbing mountain passes or tucking in for a breakaway. On this version of the Cervelo Carbon Bar, the drop has been extended a few millimeters...
Easton EA70 AX Handlebar Black, 46cm
There you are, in the middle of the desert wilderness, pushing your tiny hatchback to its off-road limits while your friends trundle ahead to the start point in four-wheel-drive bliss. It's ok though, because you know that the tables will turn as soon as you clip into two wheels thanks to the...
Easton EC70 Aero Handlebar Matte Carbon, 42cm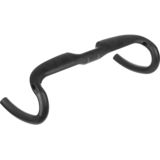 Retail Price:
$289.99
Our Price: $218.75
buy now
Easton's EC70 Aero Handlebars are sprint-specialized, canyon-crushing, leverage-lending beauties built by angels in heaven, really. Easton CNT Composite infused with TaperWall Technology makes the EC70's light enough to grace the machines of the fastest riders on the planet, and stiff enough to...
Easton EC70 AX Handlebar Carbon, 40cm
The Easton EC70 AX Handlebar satisfies those cyclists seeking an all-road and gravel carbon bar with an ergonomic drop shape. This latest version features compatibility with bar end mounted Di2 junction boxes for a clean integration. It's short drop and moderate reach offer comfortable hand...
ENVE Compact Road Handlebar Black, 46cm/Compact
ENVE's Road Handlebar is already among one of our favorites in the office so we're quite glad it didn't change much with a total redesign. Known for its incredibly lightweight design, strength, and comfortable ride, we've put a number of these bars on customer's bikes and have no problems...
ENVE G Series Gravel Handlebar
Answering the call of more and more cyclists taking their drop bar bikes off-road and seeking a flared handlebar comes the G Series Gravel Handlebar from ENVE. Like everything coming out of the Ogden, UT firm, extensive research and development went into this purpose built carbon drop bar with...
ENVE Gravel Handlebar
ENVE's Gravel Handlebar is a drop bar designed to improve our off-road, gravel riding experience. Its carbon fiber construction absorbs and dampens the shocks we feel from rough trails to minimize upper body fatigue and features an ergonomically comfortable design to keep us riding for hours....
<< Prev | 1 | 2 | 3 | 4 | 5 | 6 | Next >>