Components Drivetrain Brakes Cranksets Chainrings Mountain Cranksets - Road Bike Shop
Shop
>
Sporting Goods > Outdoor Recreation > Cycling > Bicycle Parts > Bicycle Drivetrain Parts > Bicycle Cranks
>
Components > Drivetrain, Brakes > Cranksets & Chainrings > Mountain Cranksets
All Mountain Style Crank Defenders
Retail Price:
$20.00
Our Price: $15.00
buy now
An elegant solution to protect your cranks and to add some style at the same time. Extra protection and added style on the crank arm. Fits most carbon and some aluminium cranks. Durable and strong. Light and doesn't absorb water or mud. Tight fit to avoid debris between defender and crank arm.
Cane Creek eeWings Electric Wings Crank Arms Brushed Titanium, 165mm
A crankset designed specifically for the rigors of eMTB, Electric Wings are 100% titanium and made with advanced Additive Manufacturing Technology resulting in a crank that is both incredibly durable and lightweight. Additive Manufacturing allowed us to create the more complex shapes needed to...
FSA KFX Boost Crankset Black, 175mm, 30T
Retail Price:
$440.00
Our Price: $330.00
buy now
Carbon cranks aren't for everyone, so the aluminum enthusiasts among our ranks opt for the KFX Boost Crankset for its high-performance design that also boasts a durable aluminum construction. These cranks are CNC-machined with a hollow construction for a ride feel that is lightweight, responsive,...
PRO Crank Protector
To protect our cranks on rocky, root-y trails, we hook them up with the Crank Protector. This little rubberized boot saves the tip of our cranks from getting scratched and dinged while we kick up dirt.
Race Face Aeffect EXI Crank Arms Black, 175mm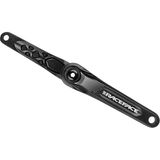 Now available with a black satin finish and two-tone graphics, Race Face's popular Aeffect EXI Crank Arms are a rock solid option for aggressive trail riding. With a more accessible price point than its higher-end siblings, the Aeffect provides the freedom of a modular crank design for your trail...
Race Face Crank Boots Yellow, For G4
The Race Face Crank Boots offer an attractive and affordable solution to protecting your favorite cranks from the inevitable bashing and smashing incurred by riding through rough terrain and rock gardens. Crank Boots are especially useful with low-slung trail rigs, as the lower bottom bracket...
Race Face Era Crank Arms
The Race Face Era Crank Arms allow riders to send it on the trail without worrying about a weak crank breaking underneath the frame, on even the roughest terrain. It is strong and stiff thanks to the carbon body and steel wear plate construction and is so durable that it may even outlast our bike...
Race Face Next R Crank Arms Red, 175mm
Retail Price:
$429.99
Our Price: $299.79
buy now
We love Race Face's rugged and DH-worthy SixC cranks on our big bikes for no-nonsense performance, as well as the ultra-lightweight and stiff Next SL crank on our XC whips. Sometimes it leaves us wondering, what cranks to put on our trail bike and if we have to make a compromise. Wonder no more....
Race Face Next SL Crank Arms Stealth, 175mm
Whether you ride a simple and reliable single-ring drivetrain, or prefer to run a traditional double- or triple-ring setup, the Next SL crank accommodates both. While a one-by uses a direct-mount chainring, a double or triple setup uses the Race Face aluminum spider that is sold separately. They...
Race Face Turbine Crank Arms Black, 170mm
A legacy of unrivaled strength and durability has earned the Turbine a place in the crankset hall of fame. Dont let the competitive weight and modern looks fool you. This crank is ready for anything. The proven and future-proof CINCH System will let you keep turning these cranks on your next bike...
<< Prev | 1 | 2 | 3 | 4 | 5 | 6 | Next >>