Components Drivetrain Brakes Chains Chain Guides Road Bike Chains Guides Road Chains - Road Bike Shop
Shop
>
Sporting Goods > Outdoor Recreation > Cycling > Bicycle Parts > Bicycle Drivetrain Parts > Bicycle Chains
>
Components > Drivetrain, Brakes > Chains & Chain Guides > Road Bike Chains & Guides > Road Chains
CeramicSpeed Connection Link for KMC 12-Speed Chain
KMC 12 speed missing-link for easy connection and disconnection of KMC 12 speed chains. KMC recommends installation and removal up to 5 times before replacement
CeramicSpeed UFO Chain KMC 11 Speed
Don't let drivetrain drag steal those hard-earned watts and instead dial in your drivetrain speed with the smooth spinning UFO Chain KMC 11 Speed. This chain is crafted and optimized by hand in Denmark using race proven techniques and lubes designed to help you go faster with less effort. Two to...
CeramicSpeed UFO Chain KMC 12-Speed
Retail Price:
$185.00
Our Price: $152.86
buy now
Built to have us speeding by faster than an alien spaceship the CeramicSpeed UFO Chain KMC 12-speed has our drivetrain working more efficiently and faster than ever. Coated in a state-of-the-art ceramic material the chain saves additional watts when working through our drivetrain. Chains with...
CeramicSpeed UFO Chain Shimano 11 Speed Gray, 11 Speed Road, 116 Links
If you're after every possible advantage on race day, optimize your drivetrain and drop some friction with CeramicSpeed's UFO Chain for Shimano 11 Speed. This high-speed racing chain is carefully selected and optimized by hand in Denmark and the techniques and lubes used are proven to help you...
KMC E11 E-Bike Chain - 11 Speed Silver, 136 Links
Cutting Edge Technology|Unparalleled Tensile StrengthNew Shield Tech Riveting|Conquer All TerrainUnparalleled Rigidity & Strength|Exceptional Durability
KMC X12-TI Nitride Gold Chain Gold, 12 Speed, 126 Links
KMC makes chains for all aspects of cycling that are known for reliability, smooth shifting performance, and quick installation via the Missing Link system. With the visually-stunning X12-TI Nitride Gold Chain they've made their foray into the realm of 12-speed to accommodate the growing market...
Shimano 11-Speed Chain Pins
Retail Price:
$11.00
Our Price: $7.23
buy now
Some might say that 11-Speed Chain Pins are a thing of the past, but not us, no, we know that these pins are ever-useful in a pinch. Compatible with any 11-speed chain out there but best with a matching Shimano chain, we use these if we've accidentally cut a chain too short and don't have any...
Shimano SLX/105 CN-HG601 11-Speed Chain Grey, 126 Links
Retail Price:
$32.99
Our Price: $29.84
buy now
For 2015, Shimano's 105 groupset got a few high-profile upgrades. It's gone to 11-speed, and now has many of the same crankset technologies seen in Dura-Ace and Ultegra. As you'd expect, changes to the cassette and crankset also necessitate changes to the chain that connects them. Shimano...
Shimano Ultegra CN-6701 Chain 10 Speed, 116 Link
Retail Price:
$42.99
Our Price: $22.25
buy now
Run the Shimano Ultegra CN-6701 Chain in between the twister and the twistee for reliable, fast-shifting performance thanks to the innovative Hyper-Glide system.
SRAM 12s Road PowerLock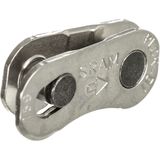 The 12s Road PowerLock chain connector is required for installing the all-new SRAM eTap AXS chains. The chain has a unique link shape thus requiring a new connecting link. It requires no tools to install once the chain is cut to length and a new one is recommended every time the chain is removed....
<< Prev | 1 | 2 | Next >>