Components Drivetrain Brakes Chains Chain Guides Mountain Bike Chains Guides Mountain Chains - Road Bike Shop
Shop
>
Sporting Goods > Outdoor Recreation > Cycling > Bicycle Parts > Bicycle Drivetrain Parts > Bicycle Chains
>
Components > Drivetrain, Brakes > Chains & Chain Guides > Mountain Bike Chains & Guides > Mountain Chains
KMC X12 Chain - 12 Speed Silver, 12 speed, 126 Links
The X12 Chain is a high-end offering from KMC that we use to optimize our 12-speed drivetrains for a wide range of cycling builds, from road bikes to trail bikes. It includes a quick link for easy installation, and is compatible with SRAM, Shimano, and other major 12-speed drivetrain systems.
Shimano XT/Ultegra 12-Speed Chain
Cassettes and derailleurs often get all of the credit. What we mean is, when Shimano launched its new 12-speed group, the eye-catching 11 - 51t cassette and lofty rear derailleur got all of the attention, while the chain remained an afterthought to most viewers. We're here to sing the chain's...
Shimano XT/Ultegra CN-HG701 11-Speed Chain Quick Link, 126 Links
When you turn the pedals, you often take for granted that each link of your chain will go on grabbing each cog of your cassette for every mile of every ride. That is, until the day it stops, and you're left standing in the shoulder questioning your life decisions with a stretched, broken, and...
Shimano XTR/Dura-Ace CN-HG901 11-Speed Chain One Color, 116 links, Quick Link, 11 Speed
Retail Price:
$52.99
Our Price: $48.73
buy now
The XTR/Dura-Ace CN-HG901 Chain keeps our bikes shifting with precision, and pairs brilliantly with Shimano's top-notch XTR and Dura-Ace 11-speed drivetrains. This model features a revised plate profile that's compatible with E-bikes and single-speed applications. The chain's slight asymmetry...
SRAM GX Eagle 12-Speed Chain Silver, 126 links
Retail Price:
$36.00
Our Price: $28.80
buy now
The SRAM GX Eagle 12-Speed Chain keeps you shifting with precision across all 12 gears of your Eagle drivetrain without the higher price tag of the XO1 and XX1 chains. Instead of employing the hollow pin construction of its flashier brethren, the GX Eagle 12-Speed Chain uses solid pin...
SRAM GX Eagle Transmission 12-Speed Chain Silver, 126 link
Top-tier electronic shifting components now in a value-packed version, what is there not to love? The new SRAM GX Eagle Transmission drivetrain uses a new T-Type chain with a flat top to maximize shifting performance. Solid pins enhance durability and are durable enough to be used with an...
SRAM NX Eagle 12-Speed Chain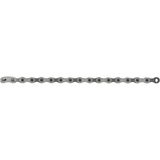 Retail Price:
$28.00
Our Price: $22.40
buy now
SRAM's NX Eagle 12-Speed Chain is fully compatible with any Eagle drivetrain, it just lacks the blingy anti-friction finish of the higher end models and may add a few extra claimed grams (20g heavier than the GX chain) to your ride. Those are small trade-offs for the savings, though--especially...
SRAM PC-1110 Chain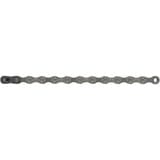 Designed from a long line of dependable, lightweight chains that are built for toughness, the SRAM PC-1110 chain features solid pin construction, 11-speed POWERLOCK and smooth, efficient shifting that you can count on every time out.
SRAM PC-1170 Chain One Color, 114 links
Retail Price:
$46.00
Our Price: $35.42
buy now
The PC-1170 is slightly narrower than its forebear, to comply with the smaller tolerances required by an 11-speed cassette. It also has hollow pins, which save 20g of weight without decreasing strength, and has new inner and outer finishes for improved smoothness. Of course, it also comes with...
SRAM PowerLink Chain Connector Gold, 9 Speed/4 Pack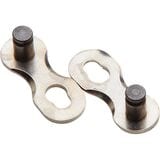 Retail Price:
$18.00
Our Price: $7.20
buy now
Trailside chain repair isn't much fun, but SRAM makes it a touch easier with the SRAM 9-Speed Power Link. The Power Link allows you to connect or disconnect your chain without the use of tools, making cleaning your chain a breeze as well. As it works for both SRAM and Shimano 9 Speed chains, we...
<< Prev | 1 | 2 | Next >>