Components Drivetrain Brakes Brakes Road Brakes Pads Parts Road Brake Pads - Road Bike Shop
Shop
>
Sporting Goods > Outdoor Recreation > Cycling > Bicycle Parts > Bicycle Brake Parts > Bicycle Brake Sets
>
Components > Drivetrain, Brakes > Brakes > Road Brakes, Pads & Parts > Road Brake Pads
ENVE Carbon Brake Pad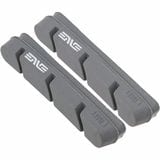 Retail Price:
$20.00
Our Price: $15.00
buy now
ENVE spent an immense amount of research and development time improving the braking surface on their carbon rims, and it stands to reason that an implicit part of that carbon braking system would include the ENVE Carbon Brake Pads.With a goal of having a brake pad compound that will manage heat,...
Reynolds Cryo-Blue Power Brake Pads - 2-Pack
There comes a time, after even the best winter of powder, that you just want the snow to go away so you can dust off your road bike for a moderately temperate coffee ride. Before you head out though, it's always a good idea to start off the year with a fresh pair of Reynolds Cryo-Blue Power Brake...
SRAM HRD Road & Level Ult/Tlm Brake Pads
Retail Price:
$27.00
Our Price: $15.39
buy now
Keep your brakes running smooth and strong by replacing the pads at regular intervals. These ones work for SRAM hydraulic road disc brakes, as well as Level Ultimate and TLM mountain bike brakes. Choose the organic compound for more initial bite and quieter operation, or choose sintered for more...
SRAM Rim Brake Pads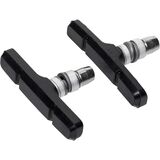 Experience exceptional stopping power and longevity with SRAM Rim Brake Pads. Designed for all weather conditions, these high-performance brake pads ensure smooth, controlled braking and enhanced safety on your outdoor rides. Constructed from advanced materials, SRAM Rim Brake Pads reduce wear on...
SwissStop Flash EVO BXP Brake Pad - 4-Pack
Designed for the needs of road and cyclocross bikes with limited brake clearance, the Swissstop Flash EVO BXP Brake Pads offer a low-profile shape that's compatible with direct-mount calipers and super-wide aero wheels. Whether you're riding a wide-rimmed time trial bike or road bike with...
SwissStop Full FlashPro Black Prince Brake Pad
Compatible with both Shimano and SRAM brakes, SwissStop Full FlashPro Black Prince Brake Pads are for carbon rims only. The 'Full' in SwissStop Full FlashPro means that this brake pad kit comes with pads and holders. There will be no stripped set screws or lost parts. Simply remove your old, worn...
SwissStop RacePro Yellow King Brake Pad - 2-Pack
Are SwissStop RacePro Yellow King brake pads the best pads in the world for use with carbon fiber rims? We should have the courage to flat-out say it, but instead we'll just pass along this little piece of gossip: It's SwissStop that makes Lightweight's house brand brake pads -- and we don't know...
Zipp Tangente Platinum Pro Evo Brake Pad
Retail Price:
$47.00
Our Price: $31.49
buy now
HASH(0x1e86d8650)