Components Drivetrain Brakes Brakes Mountain Brakes Pads Parts Mountain Brake Pads - Road Bike Shop
Shop
>
Sporting Goods > Outdoor Recreation > Cycling > Bicycle Parts > Bicycle Brake Parts > Bicycle Brake Sets
>
Components > Drivetrain, Brakes > Brakes > Mountain Brakes, Pads & Parts > Mountain Brake Pads
absoluteBLACK GRAPHENpads Brake Pads One Color, Shimano Deore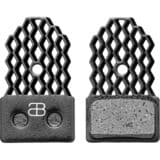 GRAPHENpads - the new era of braking confidence and consistency is here.. Ceramic GRAPHENpads are a completely new benchmark for the braking pad industry thanks to our unique approach to the design of backplate cooling fins, bespoke backplate coating with graphene as well as a completely new...
Hope E4 Disc Brake Pads
When the pads wear down on your Tech 3 E4 brakes, replace them with genuine E4 Disc Brake Pads from Hope. These brake pads are designed at Hope's facility in Great Britain and tested by Hope employees, their pro riders, as well as on their in-house dyno to ensure they meet high standards of...
Hope SR4 Brake Pads for RX4 One Color, SRAM Blue
Experience unparalleled stopping power with Hope SR4 Brake Pads for RX4. Designed specifically for your RX4 bike, these durable, high-performance brake pads provide enhanced modulation and control, ensuring a safer and more enjoyable ride. With Hope's commitment to quality, the SR4 Brake Pads...
Hope V4 Brake Pads One Color, Ebike Compound
Unleash the power of control with Hope V4 Brake Pads. Expertly engineered to deliver superior stopping power in all conditions, these brake pads ensure unmatched reliability and performance. They provide consistent braking force, even in the most challenging terrains, enhancing your biking...
Magura USA 7.P Disc Brake Pad
Retail Price:
$30.00
Our Price: $24.00
buy now
Designed for Magura's twin-piston calipers, the 7. P Disc Brake Pad pairs with trail rear brakes or XC front brakes. It's built with Magura's middle-ground P (Performance) compound, which suspends brass particles in a resin base to strike a balance between the less-responsive, longer-wearing C...
MTX Braking Gold Label Brake Pads
When we're looking for maximum durability and fade resistance, we chose the MTX Braking Gold Label Brake Pads. Designed to handle the extra weight of eMTBs, the Gold Lable brake pads provide us with a consistent braking feel from top to bottom.
MTX Braking Red Label RACE Brake Pads RL220, Hope Tech 3 E4
An easy way to increase our bike's performance and braking power is with the MTX Braking Red Label RACE Brake Pads. Made from a blend of Kevlar and ceramic, these brake pads bring us top-tier braking performance and are durable and near-silent in all conditions. The Red Label RACE brake pads come...
Shimano H03C Metallic Disc Brake Pad
Retail Price:
$49.00
Our Price: $40.05
buy now
Refresh your braking power with a new set of Shimano Saint/Zee (H03C) Metallic Disc Brake Pads, which feature aluminum cooling fins and a metal compound that provides reliable braking across wet and dry weather conditions. Each pad set includes two pads, a retraction spring, and a cotter pin for...
Shimano J04C Metallic Disc Brake Pad Metallic, One Size
Retail Price:
$36.00
Our Price: $25.59
buy now
Keep your Shimano XTR or XT brakes running smoothly with the Shimano XTR/XT (J04C) Metallic Disc Brake Pad. Made with a steel base and featuring Shimano's trademark cooling fins, these pads reinvigorate your braking system for confident stopping power and modulation. Compared to organic pads,...
Shimano J05A-RF Resin Disc Brake Pad
Retail Price:
$33.99
Our Price: $24.49
buy now
The new Shimano J05A-RF Resin Disc Brake Pad is designed to be quieter and more durable than Shimano's previous generations of brake pads for their 2-piston trail brakes. The new resin material gives us high-performance brake modulation for navigating tricky descents, while the finned alloy...
<< Prev | 1 | 2 | Next >>