Components Drivetrain Brakes Brakes Bleed Kits Fluid - Road Bike Shop
Shop
>
Sporting Goods > Outdoor Recreation > Cycling > Bicycle Parts > Bicycle Brake Parts > Bicycle Brake Sets
>
Components > Drivetrain, Brakes > Brakes > Bleed Kits & Fluid
Hayes DOT-5.1 Hydraulic Brake Fluid Black, 4oz
Give your Hayes disc brakes a fresh bleed with some of its original equipment DOT-5. 1 Hydraulic Brake Fluid. By adhering to the DOT 5. 1 standard, it means that the fluid is regulated and is currently the highest performing brake fluid available. It achieves the highest wet and dry boiling point...
Jagwire Pro DOT Bleed Kit
Retail Price:
$79.99
Our Price: $45.59
buy now
The PRO DOT Bleed Kit is there for us when we desperately need to give our DOT brakes some good 'ol TLC. When it comes to summer riding we're outsmarting the rest by doing our own brake jobs instead of waiting in long lines at the shop. This easy-to-use and professionally put-together brake bleed...
Magura USA Royal Blood Mineral Oil Blue 1, 1 liter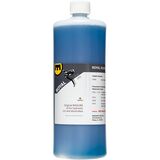 Retail Price:
$60.50
Our Price: $48.40
buy now
Maybe once a season, or anytime the levers feel a little spongy, we like to bleed our Magura brakes. This removes any air infiltration, introduces fresh fluid, and gets the system back to 100%. Magura's Royal Blood uses mineral oil that doesn't absorb moisture from the atmosphere so the boiling...
Magura USA Small Bleed Kit
Retail Price:
$35.20
Our Price: $28.16
buy now
Small Bleed Kit
RockShox Reverb Bleed Kit
Retail Price:
$50.00
Our Price: $25.99
buy now
To keep our Reverb Seat Post actuating like dream, we turn to the RockShox Reverb Bleed Kit. This all-in-one kit gives us all the tools to expertly service our suspension components in need.
SRAM 5.1 DOT Hydraulic Brake Fluid One Color, 4oz
Anytime you shorten your brake hoses or if you want to keep your SRAM or Avid disc brakes performing at their best, we'd recommend bleeding the brakes once a year with the PitStop 5. 1 DOT Hydraulic Brake Fluid. This brake fluid is the OEM replacement DOT-5. 1 fluid in a non-silicone formula that...
SRAM Pro Brake Bleed Kit One Color, Dot 5.1 Not Included
Retail Price:
$95.00
Our Price: $73.15
buy now
If you're bleeding brakes once a year or so, SRAM's standard brake bleed kit will do just fine, but when your garage is nothing shy of a quiver of bikes built up with disc brakes, chances are you'll want to service things a little more frequently. SRAM's Pro Brake Bleed Kit builds on the standard...