Accessories Trainers Rollers Rollers - Road Bike Shop
Shop
>
Sporting Goods > Outdoor Recreation > Cycling > Bicycle Accessories > Bicycle Trainers
>
Accessories > Trainers & Rollers > Rollers
Elite Arion Mag Parabolic Folding Rollers
Retail Price:
$329.99
Our Price: $263.99
buy now
Get training the right way with the Elite Arion Mag Parabolic Folding Rollers. Featuring parabolic-shaped rollers, an adjustable and foldable design, and adjustable magnetic resistance, the Arion Mag Parabolic Folding Rollers are the ultimate way to train or get warmed up pre-race. The rollers...
Elite Arion Roller One Color, One Size
Retail Price:
$249.99
Our Price: $199.99
buy now
Whether it's for warming up in a shady corner of a parking lot before an event or trying to maintain form through the cold months, rollers are occasionally a necessary evil. Elite's Arion Rollers don't beat around the bush: they're all business with no silly frills to disguise the fact that what...
Elite Nero Interactive Rollers
Retail Price:
$899.99
Our Price: $719.99
buy now
It's time to face it if you aren't using some form of interactive or smart indoor trainer, you're off the back. They simply make the workouts more enjoyable and effective and while it's not quite as good as riding outdoors, it's exciting enough to still keep us motivated to ride when the weather...
Elite Quick-Motion Rollers One Color, One Size
Retail Price:
$499.99
Our Price: $399.99
buy now
As hard as they try, fixed home trainers can't quite replicate that on-road feel that connects you to the training session like rollers. With the Elite Quick-Motion Rollers, the outdoor-feel is elevated further. Not only parabolic shaped to keep you centered on the drums as you drift outwards...
Kreitler Alloy 3.0 Rollers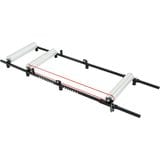 For those of us living in frigid winter climates and areas susceptible to weeks of rain, it's nice to have a back-up plan for training when inclement conditions threaten to derail your ride. The Kreitler Alloy 3. 0 Rollers keep your riding endurance on track when nasty weather moves in and...
Saris AL Roller Black, One Size
Some riders may swear by trainers, but when it comes to training both bike handling skills and speed, rollers are hard to beat. SARIS offers its AL Roller with aluminum drums that spin near silently, so you can work on balance and endurance indoors without the whine of the trainer waking up...
Wahoo Fitness KICKR Rollr / Powrlink Zero Single-Sided Bundle
The KICKR Rollr / Powrlink Zero Single-Sided Bundle delivers controlled resistance and front stabilizers for a natural indoor training experience. We can stay connected easily with the Wahoo Fitness App, and the ELEMNT GPS bike computer directly controls the roller with re-riding outdoor routes...