Accessories Tools Maintenance Tools Tools For The Shop Wrenches - Road Bike Shop
Shop
>
Sporting Goods > Outdoor Recreation > Cycling > Bicycle Accessories > Bicycle Tools
>
Accessories > Tools & Maintenance > Tools > Tools For The Shop > Wrenches
Abbey Bike Tools Suspension Top Cap Socket Set Green, Set of 6, 24 to 32mm
Suspension service is a specialty within bicycle repair and it takes specialized tools to perform this work. One of the things that any factory tech will tell you is nice to have are sockets specifically made or altered for the low profile hex on the top of each fork leg. The lead in or chamfer...
Abbey Bike Tools Team Issue Ti Hammer Ti, One Size
When one of my customers requested I make a titanium travel hammer I thought he was nuts, until I made it. Then I realized his genius. This is fairly specialized tool designed for the traveling mechanic and is part of our Team Issue line. However anyone who has used, currently uses, or is...
Birzman 1/2" Ratchet and Socket Set Silver, One Size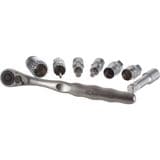 Maintenance and part replacement is easier (or at least possible) if you have the right tools. Birzman's 1/2" Ratchet and Socket Set is designed to handle your hex, Shimano bottom bracket, Shimano HG cassette, and Shimano MF Freewheel needs with an assortment of chrome vanadium steel sockets and...
Effetto Mariposa Giustaforza II 10-60 Pro Torque Wrench
Originally built in Italy, the Effetto Mariposa Giustaforza II 10-60 Pro Torque Wrench lives up to high expectations. The Giustaforza II uses no batteries or electronics--the first to break in any tool. It's unlocked by a knob located on the wrench end; once unlocked, set the desired torque value...
Feedback Sports 15mm Pedal Combo Wrench
Taking off your pedals is never an easy task, and somehow, we always need to take ours off when they're at their muddiest. The job must go on, of course, and it helps to have a solid set of wrenches at your disposal to make the process go a little smoother. Fill up your growing home toolbox with...
Feedback Sports Chain Pin Press One Color, One Size
Retail Price:
$44.00
Our Price: $30.80
buy now
You resolved to teach yourself to do at least two simple repairs on your own bike this year, and well, you're running out of time. Coincidentally, you also bought a new chain that needs to be shortened. This is it: the stars have aligned. Hurry up and buy the Feedback Sports Chain Pin Press and...
Feedback Sports Fixed 3-Way Hex One Color, 4/5/6mm
Someday, in the distant future, cyclists will have one single tool that does everything they could possibly need to their bikes. Maybe they'll wave it over the length of their frames and wait patiently while it detects bent spokes and limits that need adjusting. We can only dream of what it will...
Feedback Sports L Handle Hex One Color, 10mm
We all said we'd be content with flat pedals and a stock crankset forever, and we all know how quickly those pronouncements change after some time on the trails. When you're swapping flats for clipless or tightening crankset bolts, reach for the Feedback Sports L Handle Hex to make sure you're...
Feedback Sports Spoke Wrench One Color, One Size
Wheel building and maintenance is a complicated art, and a spoke wrench is an integral part of it. Feedback Sports doesn't try to do anything complicated with its Spoke Wrench. The durable, CNC-machined tool comes with slightly rounded edges to give you a secure grip as you painstakingly adjust...
Feedback Sports Steel Core Tire Lever Set One Color, One Size
Feedback Sports enjoys adding more than one feature to its tools wherever it can to save you space, and its Steel Core Tire Lever Set is no exception. Not only a beefed-up version of the tool every cyclist has stashed somewhere, these tire levers are also slim enough to be used to pry disc brake...
<< Prev | 1 | 2 | 3 | 4 | 5 | 6 | 7 | 8 | Next >>