Accessories Tools Maintenance Tools Tools For The Shop Aprons Shopwear - Road Bike Shop
Shop
>
Sporting Goods > Outdoor Recreation > Cycling > Bicycle Accessories > Bicycle Tools
>
Accessories > Tools & Maintenance > Tools > Tools For The Shop > Aprons & Shopwear
Delta Single Bike Hinge Wall Mount Rack One Color, One Size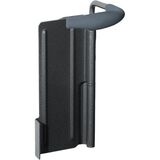 Easily swing bike into desired position to optimize spaceHolds any bike up to 2. 5"Durable powdercoated steel with custom molded covers
Delta Single Bike Wall Mount Rack + Shelf
Easy horizontal mount for most bikesCustom formed steel accessory shelf folds down to hold other gearMolded rubber arms protect bike finishEasy installation in any wood stud with included hardware
Granite-Designs Juicy Valve Cap and Core Tool Black, One Size
JUICY NIPPLE comes 9 different colorways. A pair of caps are included in the package.
Granite-Designs Rockband Turquoise, One Size
Granite ROCKBAND is a super lightweight carrier belt for sports cycling enthusiast. Its application and usage are pretty wide and self-explanatory! Get minimalist! Let go of your baggage with Granite ROCKBAND!!!
Hiplok ANKR Mini Wall + Ground Anchor Black, One Size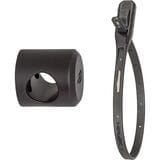 Compact security anchor providing a secure fixing point for locking bikes, scooters and e-scooters. ANKR MINI is easy to install on masonry or wood and is suitable for inside or outside. Made from premium steel with a toughened nylon outer, pair ANKR MINI with a D lock or Z LOK for locking up at...
Hiplok ANKR Wall + Ground Anchor White, One Size
Designed to pair with one of Hiplok's many security chain locks and D-locks, the ANKR Wall + Ground Anchor provides the perfect locking point for our bike. We can affix the ANKR to a variety of wall and floor surfaces as an alternative to loose outdoor storage or less-than-desirable bicycle racks...
Hornit CLUG PRO Hybrid Bike Storage Hook
Designed in collaboration with FIDLOCK, the CLUG PRO utilises an innovative magnet and ratchet system to ensure your bike always stays secure. Working with your floor to store your bike either vertically or horizontally, the CLUG PRO hybrid is suitable for bikes with tyres between 33-43mm wide....
Hornit CLUG PRO Plus Bike Storage Hook
CLUG PRO combines the Eurobike award-winning CLUG with FIDLOCKs magical magnet and ratchet system to ensure your bike always stays secure.
Muc-Off Deep Scrubber Glove
Got some hard to reach grime you just cant get to? Or just want to grab your bike with both hands and get down to it? Then reach for the Muc-Off Deep Scrubber Gloves, you just wont believe how fast you can get your pride and joy thoroughly clean!Made from durable and high-strength silicone, these...
Muc-Off Mechanics Glove Black, XXL/11
Perfect for anyone working on a bicycle, motorcycle or car, the Mechanics Gloves are designed to offer the hand total 360 comfort and protection against most cuts and scratches with minimal impact to dexterity. Gone are the days of taking the skin off your knuckles when removing a difficult to...
<< Prev | 1 | 2 | 3 | Next >>