Accessories Tools Maintenance Tools Tools For The Ride Tool Kits - Road Bike Shop
Shop
>
Sporting Goods > Outdoor Recreation > Cycling > Bicycle Accessories > Bicycle Tools
>
Accessories > Tools & Maintenance > Tools > Tools For The Ride > Tool Kits
Abbey Bike Tools 13mm Chamferless Socket
This is a 13mm socket made specifically for the bleeders on modern Fox forks. These bleeders are built just like a top cap, with minimal height of the hex drive. So it's a perfect application for our original chamferless sockets. Use these to install the fenders that mount behind the bleeders or...
Abbey Bike Tools 4-Way Multi-Tool Green, 4/5/6mm/#2 jis
The Abbey Bike 4-Way Multi-Tool is an ideal instrument for quick adjustments in your home shop or on the road and trail. Abbey Bike's signature green anodization makes for a handsome tool that easily fits in a hydration pack, saddle bag, or jersey pocket. This tool is the result of a...
Abbey Bike Tools 4-Way Multi-Tool with Interchangeable Bits Green, 10-Piece Bit Set
The Abbey Bike Tools 4-way precision multi-tool is the perfect choice to carry with you while on a ride. We designed this beautiful green anodized tool to fit into a compact saddle bag, riding wallet, tuck into a jersey pocket or at home in the shop apron and shop work bench. Everybody makes a...
Abbey Bike Tools Big Drift Kit
The Big Drift Kit is an add-on kit for the popular Abbey Bike Tools Modular bearing press. We already enjoy the effectiveness of the Modular bearing press for pressing headsets, bottom brackets, and larger hub bearings, and this kit expands that versatility to even more bearing sizes and styles....
Abbey Bike Tools Bottom Bracket Socket - Oversized Green, TorqTite
Don't mar up your brand new bottom bracket before you even get a ride on it. Use Abbey Bike Tools' Oversized Bottom Bracket Socket, made with the same high quality 7075 aluminum alloy and machined and finished to tight tolerances as the rest of its tools, and install your bottom bracket or...
Abbey Bike Tools Bottom Bracket Socket - Single Sided BSA30 Green, BSA30 16-Notch
Using the Bottom Bracket Socket from Abbey Bike Tools is the PRO way to install your threaded 30mm BB cups into your frame. Made with high-quality 7075 aluminum alloy and machined and finished to tight tolerances, you can install and remove your outboard cups without marring up that beautiful...
Abbey Bike Tools Crombie Socket - Campagnolo
We listened to your requests and created a socket style Crombie tool that is compatible with ratchets and torque wrenches. The Socket Crombie has our signature finger spline at the top along with a 3/8" square drive for using your favorite ratchet or torque wrench. The tool is plenty deep to hide...
Abbey Bike Tools Decade Chain Tool
If there's one thing we've learned from Abbey Bike Tools is just how fastidious it is about the material choices, development, and design it instills into each and every tool. Take the Decade Chain Tool for instance. It spent a full two years of prototyping, testing, and revising before it was...
Abbey Bike Tools DU Bushing Service Tool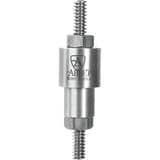 Ride your full-suspension mountain bike long enough andyou'll eventually need to replace the DU bushings on the rear shock. With theright tool, the job is actually a lot quicker and easier than you mightimagine. So at the next hint of play or creaking at your bike's rear end, grabsome fresh...
Abbey Bike Tools Dual Sided Crombie Tool - Thru Axle One Color, One Size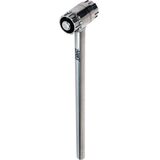 Cassette lockrings are one part of your bike that requires you to use a specialized tool if you plan on installing or removing a cassette. Abbey Bike Tools updates the ever popular Dual Sided Crombie Tool improving its use on thru-axle equipped bikes.This tool combines both the Shimano/SRAM...
<< Prev | Back | 1 | 2 | 3 | 4 | 5 | 6 | 7 | 8 | 9 | 10 | More | Next >>