Accessories Tools Maintenance Tools Tools For The Ride Multi-Tools - Road Bike Shop
Shop
>
Sporting Goods > Outdoor Recreation > Cycling > Bicycle Accessories > Bicycle Tools
>
Accessories > Tools & Maintenance > Tools > Tools For The Ride > Multi-Tools
Blackburn Grid 13 Multi-Tool
Retail Price:
$24.95
Our Price: $18.71
buy now
For such a small accessory, the right multi-tool brings us a considerable amount of peace of mind when tucked into a jersey pocket or saddle pack on a ride. The Blackburn Grid 13 Multi-Tool was constructed with a careful selection of tools for the most common trail or road-side issues, and...
Blackburn Grid 8 Multi-Tool
Retail Price:
$19.95
Our Price: $14.96
buy now
Tossing Blackburn's Grid 8 Multi-Tool into your saddle pack won't add much weight to your setup, and the weight it does add is a small price to pay for always being prepared to make basic fixes trail- or road-side.
Blackburn Local CO2 Ride Kit Black, One Size
Retail Price:
$69.95
Our Price: $52.46
buy now
Headed out for a ride but don't know what to pack? No problem, we've got you covered. The Local Ride Kit with CO2 supplies what you need to get home, and extra carrying capacity to bring along a tube and tire levers. The basics bundled in a compact package, but still with a little room for more....
Blackburn Tradesman Multi-Tool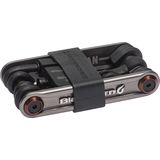 Retail Price:
$34.95
Our Price: $26.21
buy now
When you hit the trail with the Blackburn Tradesman Multi-Tool in your pocket, you'll have no reason to stress mechanical issues on the mountain. Equipping you with everything you might need, and then some, you'll be able to save the day in the event of basic mechanical issues on the trail. It...
Blackburn Wayside Multi-Tool
Retail Price:
$39.95
Our Price: $29.96
buy now
Blackburn set out to manufacture a multi-tool that would be able to get into all of the hard-to-reach spots on your frame rather than just sitting pretty with its array of tools while you call for a ride home. The Wayside Multi-Tool is solidly constructed and includes the requisite array of hex...
Crank Brothers Multi 10 Tool
Whether we're cruising the trails, grinding some gravel, or training for the next gran fondo on our calendar, the Crankbrothers Multi 10 Tool is the ultimate ride companion. With seven hex wrenches, a Philips head, flat head, and Torx 25 we have all of the tools we'd need on a ride to make quick...
Crank Brothers Multi 17 Tool
Forget hauling a slew of different tools on longer tours when you're conveniently packing the Crankbrothers Multi 17 Tool inside your jersey pocket or saddle bag. This well-machined multi-tool is only 3. 5-inches long for easy-stashing convenience. 17 different tools are sleekly integrated into...
Crank Brothers Multi 5 Tool Nickel, One Size
Crankbrothers makes elegant stuff, and the Multi-5 is a perfect example. A lightweight, rust-proof aluminum frame houses the essential tools of the trade: 3, 4, 5, 6mm hex key and a Philips screwdriver. Light and small so you can slip it into a jersey pocket and never know it was there.
Crank Brothers Multi-19 Tool Nickel, One Size
The day you don't bring tools on the trail is the day you'll break down, so stick the Crank Brothers Multi-19 in your pack and you'll have everything you need for trailside repairs and adjustments. From loose bolts to broken chains, the M-19 will get you back rolling in no time thanks to a wide...
Crank Brothers Speedier Tire Lever
The tire lever has finally been revolutionized. Single lever removes/installs tires.
<< Prev | 1 | 2 | 3 | Next >>