Accessories Lubricants Maintenance - Road Bike Shop
Shop
>
Sporting Goods > Outdoor Recreation > Cycling > Bicycle Accessories > Bicycle Tools
>
Accessories > Lubricants & Maintenance
Allied Cycle Works GRAX Drivetrain Cleaner
A dirty drive train is the number one loss of mechanical efficiency on your bike. You cannot reap the full performance benefits of GRAX if your drive train is dirty. We believe many degreasers and cleaners on the market are harsh and not designed for practical home use. GRAX OFF was designed to...
Boeshield T-9 Drip Lubricant
Boeshield T-9 Drip Lubricant offers unparalleled protection for your bike's essential components. Its unique formula penetrates deep into bike chains, cables, and gears, providing lasting lubrication that reduces friction and wear, ensuring a smoother, more enjoyable ride. The powerful rust and...
Buzzy's Slick Honey Bike grease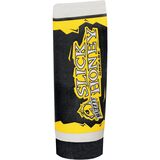 Originally developed for motorcycle suspension systems, Slick Honey is unmatched in its ability to provide nearly frictionless movement while staying in place longer than other greases.
Dumonde Tech Bio Green Bicycle Chain Lube One Color, 2 oz.
While we don't know about Gs one through nine, we can tell you that Dumonde Tech's G-10 Lubricant is something special. It is 100% biodegradable. By this, Dumonde doesn't mean that 51% of the lube is biodegradable, which often is enough for people to make a claim about their product. They mean...
Dumonde Tech Freehub Grease
Our Classic Freehub Grease is specifically designed for all freehubs that require a light weight grease. These style hubs we like to call the more mechanical hubs. Unlike the simpler, fewer parts of the Pawl style hubs. Dumonde Tech Freehub Grease performs in a broad temperature range from the...
Dumonde Tech Freehub Oil One Color, 1 oz.
Our Classic Freehub Oil is a great addition for the bicycle market and another superior product from Dumonde Tech. Freehub Oil is the original lubricant on the market specifically designed for Pawl style freehubs which require a lightweight lubricant. Freehub Oil performs consistently throughout...
Dumonde Tech Liquid Grease One Color, 1 oz.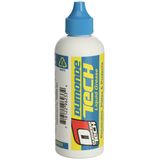 Dumonde Techs Classic Liquid Grease is a high performance replacement for traditional viscosity grease. Liquid Grease reduces the coefficient of friction through Polymer Technology. Liquid Grease polymerizes and bonds to the surface providing extremely low drag. Liquid Grease is attracted to heat...
Dumonde Tech Lite Bicycle Chain Lubrication One Color, 2 oz.
Unlike every other bike product in the world, the 'Lite' in Dumonde Lite Bicycle chain lube doesn't refer to its weight. Well, not in the usual sense. It refers to viscosity. The reason that this is so important is that you want a clean drivetrain. Heavy (thick) chain lubes leave a wet, sticky...
Dumonde Tech MR Grease One Color, 2 oz.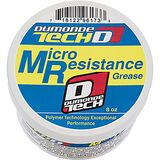 Dumonde Tech MR Grease unlocks the potential of wheels, headsets, and bottom brackets. Its Micro Resistance Polymer Technology allows it to bond with the bearing-contacting surfaces of these key components, leaving them ultra-slippery and fortified. The result is reduced wear and increased...
Dumonde Tech Original Bicycle Chain Lubrication One Color, 2 oz.
Look in any pro mechanic's tool box, and you'll find a bottle of Dumonde Tech Original Chain Lube. It's a bit more viscous than the commonly-used Dumonde Tech Light, but we've found it holds up a bit better to bad weather and gritty conditions.
<< Prev | Back | 1 | 2 | 3 | 4 | 5 | 6 | 7 | 8 | 9 | 10 | More | Next >>