Accessories Lights Tail Lights - Road Bike Shop
Shop
>
Sporting Goods > Outdoor Recreation > Cycling > Bicycle Accessories > Bicycle Tools
>
Accessories > Lights > Tail Lights
Blackburn Dayblazer 125 Tail Light
Retail Price:
$54.95
Our Price: $41.21
buy now
The big brother to the entire line, the Dayblazer 125 Tail Light is the most powerful tail light Blackburn has made. With 125 lumens in its BLITZ mode, other road users will see you whether they try to or not. Unlike some of the line, this Dayblazer features aluminum construction for exceptional...
Blackburn Dayblazer 550 Front Grid Rear Light Set Black, One Size
Join forces with our popular Dayblazer 550 combined with the Grid Rear, packing a punch with lumens, COB technology, multiple modes and extended battery life.
Blackburn Dayblazer 65 Tail Light
Blackburn's Dayblazer 65 Tail Light is the difference between being seen and blending in on your bike. This light boasts Blackburn's BLITZ mode that is designed to keep you visible whether you're riding through afternoon sunshine or cruising through starry darkness. The Dayblazer has a waterproof...
Blackburn Grid 2'Fer Front Or Rear Light Black, One Size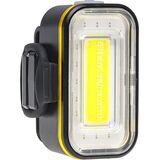 The Grid 2'Fer is the combo you need for all riding styles. This light works hard, pulling double duty as either a front light with 175 lumens or a rear light with 55 lumens, supported by COB technology and four modes. Side visibility ring glows amber in front mode and red in rear modeTHE 2'FER'S...
Blackburn Local 15 Tail Light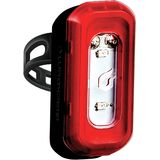 Retail Price:
$21.95
Our Price: $10.95
buy now
Staying safe on the road is probably the most important part of a commute, and it's pretty hard to make that happen if you're riding without lights. Let the Blackburn Local 15 Tail Light send out a glow to help you stay visible, and as safe as possible when your ride is hit with dim lighting, or...
Garmin Varia eRTL615 eBike Rearview Radar + Taillight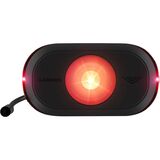 Garmin's latest innovation lets us slice our cycling worries in half and then in half again. The Varia eRTL615 Rearview Radar + Taillight gives us greater visibility on the road, lets us see and hear when vehicles are approaching from behind, and is powered by our e-Bike's battery so that we don...
Garmin Varia RCT715 Radar + Camera Black, One Size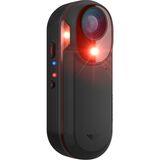 The Garmin Varia Radar Camera Tail Light combines three different features into one small package to help us stay safe when we're cycling out on the road. The Varia mounts to our seatpost and connects to our Garmin cycling computer. Once paired, the Varia's rearview radar tells our Garmin when...
Garmin Varia RTL515 Rearview Radar with Taillight
As functional as the bar and helmet-mounted mirrors are, there is a cost in aerodynamic drag and, for some reason, an insurmountable drag to the image of the road-devoted cyclist. Garmin preserves our pride and taps into some nifty tech with the Varia RTL515 Rearview Radar with Taillight, that...
Garmin Varia RVR315 Rearview Radar
Garmin's Varia RVR315 Rearview Radar detects traffic from up to 140 meters behind your bicycle. This seatpost-mounted indicator connects to Garmin's Edge Computer, and you can connect it to your smartphone via the Varia app to increase your awareness with vibration alerts, sound tones, and even...
Knog Plug Tail Light White, One Size
Retail Price:
$24.95
Our Price: $17.47
buy now
The Plug is a rear bike light that harkens back to Knogs roots, using overmolded soft touch TPU in three fun colours. Kicking out 10 lumens this light is packed with features, including a low battery indicator, rear domed lens, and like all Knog bike lights it's USB rechargeable.
<< Prev | 1 | 2 | 3 | 4 | Next >>