Accessories Pumps Co2 Inflators Co2 Inflators - Road Bike Shop
Shop
>
Sporting Goods > Outdoor Recreation > Cycling > Bicycle Accessories > Bicycle Pumps
>
Accessories > Pumps & Co2 Inflators > Co2 Inflators
Arundel Pump Head The Woodsman, Silver
Whether your old pump's chuck has simply thrown in the towel, or you're impressed by the sleek aesthetics of Arundel's unique Pump Heads, their appeal is undeniable. They combine Arundel's sleek aesthetics with durability for lifelong use that won't waiver over time. Three different styles of...
Arundel Shop Inflator Presta
Pump less, ride more! For use with home or shop compressors, this hand-held inflator is compatible with Presta valves and comes complete with a Woodsman pump head. By use of a clever valve plunger within the Woodsman head, the gauge shows actual tire pressure rather than air hose pressure.
Blackburn Airstik 2 Stage Pump
Retail Price:
$24.95
Our Price: $19.96
buy now
We find ourselves in an internal debate between the Blackburn AirStik 2Stage and the AirStik SL -- faster pumping or smaller size. If you need it on your bike for a race, do you want to save 26g or have almost twice the air volume per stroke? We go back and forth, but the greater air volume does...
Blackburn CO2 Cartridge - Multipack 16g, 16-Pack
Retail Price:
$54.95
Our Price: $41.21
buy now
From lights and mirrors to pumps and spare parts, Blackburn tries to think of everything so you don't have to. They're out there riding too, and they're all about aiding you on your quest for a perfect ride. And, there's always going to be that time where you think you have a spare CO2 cartridge,...
Blackburn Core 2 Floor Pump Black, One Size
Retail Price:
$59.95
Our Price: $44.96
buy now
Blackburn eschews the bells and whistles of pricier pumps in favor of a simple design that just works. The large aviation-style gauge is easy to see and helps hone in your preferred tire pressure for road, mountain or gravel. The Airtap pump head is compatible with any valve type with the simple...
Blackburn Core 3 Floor Pump Silver, One Size
Retail Price:
$79.95
Our Price: $59.96
buy now
It is finally the end of the work day and you're feeling antsy to get out and ride. So, it's a disappointment to find your steed with a flat. This Core 3 Floor Pump is an economical option that has the same basic functionality of the Core Pro Pump by Blackburn. It'll fill any tire valve you can...
Blackburn Core CO2 Thread-On Inflator
Modulation is everything. That is the idea behind the Core CO2 inflator. The dial regulator allows you to crack a cartridge to get just enough CO2 into your tube/tire to get it to take shape and allow you to make sure everything is seated properly. Once you know you are good to go, open the valve...
Blackburn Core Pro Floor Pump Grey, One Size
Retail Price:
$114.95
Our Price: $86.21
buy now
If a bike shop mechanic was looking for the perfect bike pump to use at home, he would choose the Blackburn Core Pro Floor Pump. The alloy construction is built to withstand constant use, and Blackburn expanded the pump shaft to increase the inflation speed. If you travel with your bike, the...
Blackburn Honest Digital Pressure Gauge
Fine-tuning tire pressure can mean all the difference between gaining optimal traction and bottoming out across nasty rock gardens, especially with wide rims and high volume tires becoming increasingly popular on the trail. Forget using the old squeeze test or relying on analog pump gauges the...
Blackburn Honest Digital Shock Pump Silver, One Size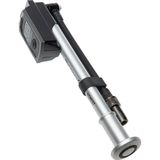 When your finely-tuned suspension starts to feel like a wet kitchen sponge, it's time to break out the Blackburn Honest Digital Shock Pump to eliminate the squishy ride. The pump's compact design stores conveniently in your daypack or car, and the digital display is oh-so precise to ensure you...
<< Prev | Back | 1 | 2 | 3 | 4 | 5 | 6 | 7 | 8 | 9 | 10 | More | Next >>