Accessories Travel Luggage Packs Bags Carry On Luggage - Road Bike Shop
Shop
>
Sporting Goods > Outdoor Recreation > Cycling > Bicycle Accessories > Bicycle Bags & Panniers
>
Accessories > Travel > Luggage > Packs & Bags > Carry On Luggage
DAKINE Status 42L+ Roller Bag Carbon, One Size
To make sure there's room for all our found treasures while traveling, we pack up with the Dakine Status 42L+ Roller Bag. The split-level design keeps our layers and gear organized, while the smooth-rolling wheels and retractable handle make airport navigation a breeze. When packing back up for...
Thule Subterra 3-in-1 56L Rolling Gear Bag Mineral, One Size
Offering you the best of both worlds, the Thule Subterra 3-in-1 Rolling Gear Bag provides adaptive storage and the convenience of three bags, all in one sleek form. The Subterra features a removable compartment that allows you to transform the large rolling gear bag into two smaller, more...
Thule Subterra Carry-On 40L Bag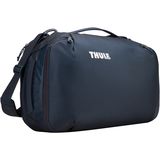 Nothing derails a vacation like the airline losing your luggage, but you also don't want to end up severely short on supplies just because you wanted to avoid checking a bag. Thule has a travel solution for you in the form of the Subterra 40L Carry-On Bag. It's designed to fit in an overhead bin...
Thule Subterra Rolling Carry-On 22in Bag Mineral, One Size
Thanks to the Thule Subterra Carry-On Rolling Gear Bag, you're able to pack all the work attire and post-grind clothes you need in order to get through a long work weekend in Boston, without having to check a bag. As the name suggests, the Subterra is carry-on compatible, allowing you to easily...