Accessories Travel Cases Cases - Road Bike Shop
Shop
>
Sporting Goods > Outdoor Recreation > Cycling > Bicycle Accessories > Bicycle Bags & Panniers
>
Accessories > Travel > Cases > Cases
Elite Borson Bike Travel Bag Black, One Size
Retail Price:
$999.99
Our Price: $799.99
buy now
The Borson Bike Travel Bag from Elite is an easy and safe way to transport your bike to a race or for vacation. Using an ultra-resistant nylon fabric outer, your bike will be protected while it's in your hands or when it's out of your sight. The Borson is compatible with drop bar and mountain...
Evoc Bike Travel Bag
The Bike Travel Bag from Evoc eases all our traveling worries with durability and padding that protects our bike from mishaps and mishandling. From when we check it before our flight to the minute it slides down the oversized baggage ramp, we can trust our bike will remain intact and undamaged....
Evoc Bike Travel Bag Pro
Scratched frames, lost parts, and general worries about traveling with a bike are no more with the Bike Travel Bag Pro. Removable wheels, a sturdy aluminum handle, and the inclusion of Evoc's Road Bike Adapter make traveling a breeze, and a soft case makes for maneuverability that's hard to beat.
Evoc Bike Travel Bag XL Olive, One Size
Just because your trusty steed is a little on the plus side doesn't mean it should stay at home when your traveling the world. Sure, most frame bags aren't so accommodating to fat tires, but with the EVOC Bike Travel Bag XL you can take your big rig with you to the end of the world, and back...
Evoc Chain Cover Black, Road
The CHAIN COVER ROAD prevents your bike and other items to be transported from soiling and damage through the bike chain.
Evoc Frame Pad 2.0 Black, One Size
Embarking on a big trip with your bike may lead you to some of the most incredible adventures, but trusting your steed to make it to your destination in one, undamaged piece is sure to have your nerves surging from the moment you pass it off to the baggage agent, until it slides down the...
Evoc Pro Road Bike Bag Black, One Size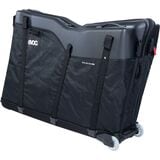 Racers like us who travel to reach our riding destinations know the fear of waiting for our bike bag to drop from the oversized luggage claim, but the Pro Road Bike Bag eases our worries of damage or mishandling. Rolling wheels and six handle options make traveling a breeze, and sufficient...
Evoc Road Bike Adapter
The Road Bike Adapter slides into Evoc's Travel Bag and protects the front end by encasing the fork with padding. This elevates the front and helps secure the rest of the bike in the bag. The Road Bike Adapter is constructed from 600D nylon that's PU-coated for durability, and measures 17 x 10 x...
Evoc Road Bike Wheel Case Black, One Size
Travel with your bike equipment with confidence knowing your wheels are protected in the Road Bike Wheel Case. Compatible with both disc and rim brake wheels, Evoc's wheel case provides superior protection with padded side panels and reinforced axle protection. Also featuring carry handles on...
Evoc Two Wheel Bag
Like a good French omelet, a wheelbag is best when it's uncomplicated. Too many details and features just get in the way, muddying flavors or, in the case of a wheel bag, risk damaging your race hoops. Fortunately for the wheel nuts among us, Evoc's Two Wheel Bag sticks to the classic wheel bag...
<< Prev | 1 | 2 | 3 | Next >>