Accessories Commuting Touring Panniers Bags Panniers - Road Bike Shop
Shop
>
Sporting Goods > Outdoor Recreation > Cycling > Bicycle Accessories > Bicycle Bags & Panniers
>
Accessories > Commuting & Touring > Panniers & Bags > Panniers
Aeroe Quick Mount Pod Black, 11L
When the road gets tough (literally), youll need the 11L Quick Mount Pod. For sturdy storage and solid protection for your gear, this waterproof, hard-shell pod is made from high quality nylon and weighs only 718 grams. Perfect for carrying soft goods, but also very popular for carrying hardware...
Arundel Junior Tycoon Mini Top Tube Bag One Color, One Size
Theres adventure then there is a racy adventure. Junior Tycoon is small, low profile, lightweight and easy to access due to a novel use of magnets instead of a zipper. One-handed use is no problem, and your stores will remain secure until you need them, even over rough terrain.
Arundel Mini Bar Czar Handlebar Bag
Top Tube Tycoon and Handlebar Czar are storage bags for your adventurous side. Riding long days in remote places on a variety of terrain requires more preparation and more gear additional layers, food, tools, phone, gloves, and lets not forget the occasional flask. The Tycoon and Czar step to the...
Benno Bikes City Front Basket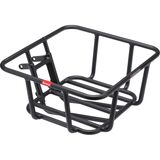 Experience versatility and convenience with the Benno Bikes City Front Basket. This key accessory enhances your outdoor cycling adventures by providing ample storage space for your essentials. The sturdy, lightweight design ensures easy handling, while the quick-release feature offers hassle-free...
Blackburn Grid Handlebar Bag Black, One Size
Attached right in front of you, the Grid Handlebar Bag gives you easy access to daily essentials like a phone, wallet, jacket, snack -- or performance essentials like gloves, tubes, a tool, tire levers, and inflation. A split mesh pocket allows you to separate your smaller items.
Blackburn Local Grocery 16L Pannier Bag Black, One Size
Blackburn's designs are not only practical, they're functional and inventive. We like to think that the true signs of a cycling aficionado aren't necessarily the most expensive parts or the most boutique gear, but the implementation of the smartest and most practical gear that makes bike life...
Blackburn Local Rear Pannier
Retail Price:
$69.95
Our Price: $52.46
buy now
A great carryall bag for work, school, shopping, or anywhere your bicycle takes you. The Local Pannier features an easy-to-use, robust mounting system and has hits of retro reflective print to keep you visible when the sun goes down.
Blackburn Local Saddle Bags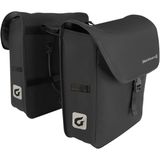 Retail Price:
$89.95
Our Price: $67.46
buy now
The market is full of packs and saddlebags with dividers and pockets that help us stay organized but cut down on the amount of stuff we can carry. For its local Saddle Bags, Blackburn decided to go for sheer volume, which is great when we're headed to the grocery store. The Local Saddle...
Blackburn Local Trunk Rack Top Bag Black, One Size
Built to last and designed to carry a massive amount of gear, the Local Trunk Rack Top Bag offers all of the features we need to make this the last rack bag we may ever need. The zip-open lid is a pocket itself, and this bag's main party trick is that the outboard pockets unzip and unfold to...
Blackburn Outpost Carryall Bag
Retail Price:
$34.95
Our Price: $26.21
buy now
Keep your snacks, layers, bear spray, tools, and whatever else you might need out on the trail or road close at hand with the Blackburn Outpost Carryall Bag. The Outpost easily mounts to your stem or handlebars in multiple locations for a secure fit via the hook-and-loop straps, while its...
<< Prev | Back | 1 | 2 | 3 | 4 | 5 | 6 | 7 | 8 | 9 | 10 | More | Next >>