Mens Clothing Mens Triathlon Clothing Mens Tri Bike Mens Triathlon Shoes Accessories Mens Triathlon Shoes - Road Bike Shop
Shop
>
Apparel & Accessories > Shoes
>
Men's Apparel Clothing > Men's Triathlon Clothing > Men's Tri Bike > Men's Triathlon Shoes & Accessories > Men's Triathlon Shoes
Lake TX213 Air Tri Shoe - Men's Air White/Black, 44.0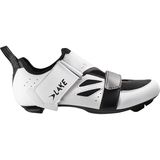 Designed to give you the quickest transitions and most comfortable rides possible, this triathlon shoe will help you crush your races with more focus than ever. The heel loop and easy adjustment straps make them easy to pull on in a flash, while the distance-minded Sport Last and quick-drying...
Lake TX223 Tri Shoe - Men's White/Black, 45.5
Improve your time split between T1 and T2 with the TX223 Tri Shoe from Lake. Using advanced technologies and quality materials, these tri kicks are fast to get into and out while improving your power transfer when you're clipped in. So whether you're just getting into tri's or your old shoes have...
Louis Garneau Tri Air Shoe - Men's
Retail Price:
$449.99
Our Price: $337.50
buy now
Your search for a premium tri shoe can end here with the Tri Air Shoe from Louis Garneau. It took its bestselling Tri-400 shoe and gave it some meaningful updates to improve the comfort so you can focus on racing and training and not sore feet. By providing exceptional cooling, supporting the...
Louis Garneau Tri X-Lite III Shoe - Men's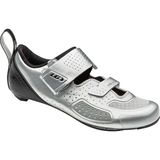 Retail Price:
$269.99
Our Price: $202.50
buy now
Louis Garneau updates their Tri X-Lite shoes for an even more comfortable, more efficient shoe for your triathlon racing and training. The wide hook-and-loop straps not only make transitions fast and efficient but also disperse the tension across your foot to increase comfort while pedaling. The...
PEARL iZUMi Tri Fly 7 Shoe - Men's Black, 49.0
Retail Price:
$115.00
Our Price: $80.50
buy now
The Tri Fly 7 shoe is designed specifically for the cycling aspect of your next triathlon. With a wide-mouth opening, double heel loops, and a notched main strap, transitions between events are fast and easy. The upper of the shoe is a quick-drying mesh, ensuring all-day comfort on and off the...
PEARL iZUMi Tri Fly Pro Shoe - Men's White, 49.0
Retail Price:
$250.00
Our Price: $162.50
buy now
Head to race day in confidence with your PEARL iZUMi Tri Fly Pro Shoes, a purpose-built shoe that blends the performance of a road shoe with the lightweight fit and feel of a triathlon shoe. The synthetic and mesh upper and perforated footbeds contribute to a light and breathable fit, with stiff...
Shimano TR5 Cycling Shoe - Men's White, 44.0
Retail Price:
$140.00
Our Price: $105.00
buy now
A key to reducing those swim-bike transition times is reducing clutter and fumble-prone equipment, and the Shimano TR5 Cycling Shoe provides a refined platform with loads of performance. Large hook-and-loop straps are easy to operate under competitive pressure, and the heel loop offers quick...
Shimano TR9 Cycling Shoe - Men's
Retail Price:
$275.00
Our Price: $206.25
buy now
You already have your tri calendar and gear pretty much set for the year, and you know the local guys you'll be training to beat this winter and spring. If you're just trying to settle on a stiff, lightweight pair of shoes that will give you power on the bike leg and get you into and out of...
Sidi T-5 Air Tri Shoe - Men's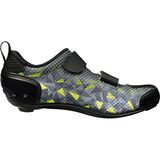 Retail Price:
$249.99
Our Price: $137.49
buy now
When every second of a split counts, efficient power transfer is key. The T-5 Air's Twelve Carbon Composite sole, with carbon-injected nylon ensures energy isn't lost to a supple sole, and is comfortable enough for the long training miles that lead up to the main event. The T-5s reinforced heel...