Mens Clothing Mens Triathlon Clothing Mens Tri Bike Mens Triathlon Shoes Accessories Shoe Replacement Parts - Road Bike Shop
Shop
>
Apparel & Accessories > Shoe Accessories
>
Men's Apparel Clothing > Men's Triathlon Clothing > Men's Tri Bike > Men's Triathlon Shoes & Accessories > Shoe Replacement Parts
Sidi Comfort Padded Cycling Insole Black/Yellow, 40.0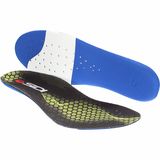 Retail Price:
$32.99
Our Price: $18.14
buy now
A new insole quickly turns a packed-out shoe into one that feels new again, and Sidi's Comfort Padded Insole adds just the right amount of cushion to enhance the fit. The added forefoot padding provides greater comfort without reducing the efficiency of our favorite stiff-soled shoes. To keep us...
Sidi Standard Cycling Insole Blue, 44.0
Retail Price:
$26.99
Our Price: $18.89
buy now
When the rides are starting to wear down your original insoles, the Sidi Standard Insole revives your shoes for the miles yet to come. A perforated footbed ensures breathability, while an anatomical cut and forefoot padding maximize comfort. Sidi's insoles are sized to fit, making it an easy swap...
Sidi Tecno 3 Push Buckle White, SHORT
Retail Price:
$59.99
Our Price: $44.99
buy now
Replacing the small, wear-prone parts on your Sidi shoes gives them a whole new lease on life, and Sidi makes the process pretty easy by offering things like the Tecno 3 Push Buckles for a palatable price. If you're wearing shoes from that use the Tecno 3 closure system, keeping one (or more) on...
Sidi Tecno 3 Soft Instep Closure System Black, One Size
Retail Price:
$21.99
Our Price: $15.39
buy now
One of the most redeeming qualities of Sidi shoes is the fact that you can replace a range of small parts throughout the shoes. Rather than having to abandon a pair of shoes because the closure strap has worn out, Sidi's Tecno 3 Soft Instep Closure System lets you easily bring new life to a shoe...
Specialized Body Geometry SL Footbeds Green +++, 44-45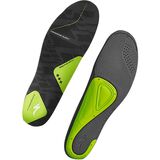 Retail Price:
$39.99
Our Price: $29.99
buy now
Add a little oomph to your arch support with the Body Geometry SL Footbeds. These orthotic inserts come in three different levels of longitudinal arch and metatarsal support so you can customize accordingly. They function to increase power, reduce fatigue, and help prevent minor injuries with...