Mens Clothing Mens Triathlon Clothing Tri Accessories Sunglasses Mens Cycling Sunglasses Sport Sunglasses - Road Bike Shop
Shop
>
Apparel & Accessories > Clothing Accessories > Sunglasses
>
Men's Apparel Clothing > Men's Triathlon Clothing > Tri Accessories > Sunglasses > Men's Cycling Sunglasses > Sport Sunglasses
100% Eastcraft Sunglasses Soft Tact Black, One Size - Men's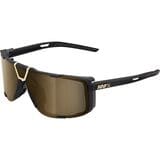 Retail Price:
$139.00
Our Price: $69.50
buy now
The Eastcraft is light and streamlined for speed-focused rides. As we pick up the pace, the small side shields stop glaring rays and flying debris from breaking our focus, while the temple and nose pads hold the frame in place despite our beading effort.
100% Glendale Sunglasses Soft Tact Black, One Size - Men's
Blending timeless style with modern frame and lens technology, the 100% Glendale Sunglasses take us back to a time when big lenses and fast muscle cars went together like butter and bread. The Glendale's represent a passion for vintage design and vintage American muscle cars shared by both the...
100% Hudson Sunglasses - Men's
Classic lines and styling meets dynamic protection and contrast in the 100% Hudson Sunglasses. Groundbreaking tech in the lightweight polycarbonate lenses filters out harmful UV rays while repelling oil, dirt, water, and scratches, for days on foot and bike alike. Then, the shatterproof Grilamid...
100% Hypercraft SQ Sunglasses Matte Black/Smoke, One Size - Men's
Retail Price:
$129.00
Our Price: $103.20
buy now
To shield our eyes from glare and debris, we pull on the 100% Hypercraft SQ Sunglasses before pedaling onto the road. The aerodynamic fit, whisper-light frame, and secure-grip pads make us forget we even have this pair on, while the wide, curved shield gives us a large view and all-angle...
100% HyperCraft Sunglasses Matte Black/Soft Gold Mirror, One Size - Men's
Light in weight, heavy on performance, the HyperCraft Sunglasses were made for grit-testing pursuits. The frame's UltraCarbon tech delivers dynamic strength that feels like air, while the high-contrast, ventilated lens keeps our vision crisp, revealing the terrain's true form.
100% Hypercraft XS Sunglasses Soft Tact Black, One Size - Men's
Weighing less than an ounce, the 100% Hypercraft XS sunglasses impress us as one of the lightest, strongest, and most dynamic performance shields on the market. This small-scale shield is designed for smaller faces with the same, big-time technology of regular Hypercrafts. This includes Ultra HD...
100% Norvik Sunglasses Soft Tact Army Green, One Size - Men's
Retail Price:
$129.00
Our Price: $64.50
buy now
To ride fast, we need to look fast, and the 100% Norvik Sunglasses has the modern tech, race-inspired style, and hyper-cool design to encourage us to ride like the wind. Lightweight TR90 frames paired with rubber tips keep the shades from bouncing or sliding as we power over hills and reach wild...
100% Racetrap Cycling Sunglasses Gloss Black, One Size - Men's
Instead of fumbling to protect our eyes by wearing cheap dollar store models, we pop on the Racetrap Cycling Sunglasses and cruise roads and trails with confidence. It has a large and grippy design to ensure they don't pop off on rocky trails while the streamlined shape pushes wind away from our...
100% S2 Sunglasses - Men's
Retail Price:
$149.00
Our Price: $74.50
buy now
When pedaling at speed, the 100% S2 Sunglasses keep our view crisp and clear for quick reactions to debris and motorists. The minimalist frame and shield lens open our peripheral vision, while the HYDROILO treatment prevents water, muck, and oil from marring our view. Along gravel and over...
100% S3 Sunglasses Matte Black, One Size - Men's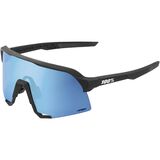 Retail Price:
$149.00
Our Price: $96.85
buy now
The S3 Sunglasses combine the understated brow of the S2 with the intake vents from 100%'s Speedcraft with the result being an angular pair of protective glasses that offer full ventilation. These sunglasses scream power, and they're designed to prevent scratching and fogging so we'll have...
<< Prev | 1 | 2 | 3 | 4 | 5 | 6 | 7 | 8 | Next >>