Mens Clothing Mens Triathlon Clothing Tri Accessories Sunglasses Mens Cycling Sunglasses Photochromic Sunglasses - Road Bike Shop
Shop
>
Apparel & Accessories > Clothing Accessories > Sunglasses
>
Men's Apparel Clothing > Men's Triathlon Clothing > Tri Accessories > Sunglasses > Men's Cycling Sunglasses > Photochromic Sunglasses
Julbo Aerolite REACTIV Performance Sunglasses - Men's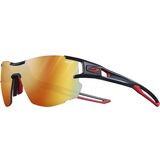 From exposed southern faces to shady northern ridges and sun-dappled trees in between, stay focused on your trail runs with the Julbo Aerolite Sunglasses. Equipped with Julbo's Zebra Photochromic Lens, which quickly adapts to the intensity of the light, these sunglasses cut back on glare and...
Julbo Camino Sunglasses Black/Spectron 4, One Size - Men's
You'll want to have your Julbo Camino Spectron4 Sunglasses on your head when you head out for a high alpine trek or a springtime mountaineering objective. These rugged shades offer high protection from sun exposure thanks to the photochromic Spectron4 lens. Removable side shields allow further...
Julbo Density REACTIV Sunglasses Translucent Gray, One Size - Men's
Built with bold performance, the Julbo Density REACTIV Sunglasses cut the glare and boost the contrast throughout changing conditions. The adaptive lens changes quickly no matter the temp we're in or the speed we're traveling, while the internal coating and built-in ventilation prevent fog from...
Julbo Density Spectron 3 Sunglasses Crystal/Pink/Blue, One Size - Men's
Bold. Stylish. Functional. The DENSITY reinvents the rules of performance eyewear with its ultramodern look and unrivaled features. A large cylindrical lens combines with a minimalist frame and moldable CustomFit Temples to offer a precise fit and a light-as-air feel. Enhanced security comes from...
Julbo Edge REACTIV Sunglasses Translucent Black, One Size - Men's
Whether we're testing our speed on road or our balance on trail, we're wearing the Julbo Edge REACTIV Sunglasses to ensure we always have the best view. The curved shield lens gives us a wide window and increased protection from debris, while the ventilating frameless style and fog-fighting...
Julbo Explorer 2.0 REACTIV Polarized Sunglasses Dark Blue Matte, One Size - Men's
Built to keep up with the demands of mountaineers venturing into the most extreme environments, the Julbo Explorer 2. 0 REACTIV Polarized Sunglasses are at home far above the treeline. Photochromic lenses adjust automatically in response to changing light conditions, so there's no need to fiddle...
Julbo Renegade REACTIV Sunglasses - Men's
Life isn't predictable, that's why Julbo created the versatile Renegade REACTIV Sunglasses to accompany you on whatever the universe throws your way. Whether you're biking, hiking, climbing, or just on a casual Saturday stroll downtown, these rugged shades offer a classic look in a durable...
Julbo Rush REACTIV Performance Photochromic Sunglasses Black, One Size - Men's
The Rush Sunglasses are a high coverage option in Julbo's cycling line, providing sufficient protection against the elements. Integrated ventilation in the lens and frame prevents fogging and allows heavy airflow to the temple area while blocking airflow to the eyes ensuring clear vision even in...
Julbo Shield REACTIV Polarized Sunglasses - Men's
Taking ski-mountaineering pretty seriously, your Julbo Shield REACTIV Polarized Sunglasses might be the handiest tool you own, aside from your boots and skis of course. The REACTIV lens use polarized technologies to keep your vision at its best, because the last thing you want on technical...
Julbo Split Sunglasses White/Light Pink, One Size - Men's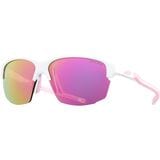 SPLIT sunglasses are designed for performance. An ultra-light model with dynamic lines, designed to protect small faces. Suspended lenses ensure lightness and ventilation. The slim CustomFIT temples equipped with Grip Tech, guarantee a comfortable hold, even under a helmet. Available with our...
<< Prev | 1 | 2 | Next >>