Mens Clothing Mens Triathlon Clothing Tri Accessories Sunglasses Mens Cycling Sunglasses Interchangeable Sunglasses - Road Bike Shop
Shop
>
Apparel & Accessories > Clothing Accessories > Sunglasses
>
Men's Apparel Clothing > Men's Triathlon Clothing > Tri Accessories > Sunglasses > Men's Cycling Sunglasses > Interchangeable Sunglasses
Oakley Flak 2.0 XL Prizm Polarized Sunglasses Polished Black/Prizm Sapphire Polarized, One Size - Men's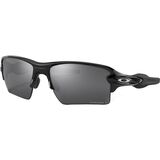 We like to push ourselves to the limit with the Oakley Flak 2. 0 XL Prizm Sunglasses. These interchangeable shades have polarized Prizm lenses to eliminate the intense glare on the road while enhancing contrast and visibility to make sure we see every rock and pothole that might sneak up on us.
Oakley Flak 2.0 XL Prizm Sunglasses - Men's
Soar through the peloton with comfort, style, and clear vision in Oakley's Flak 2. 0 Prizm Sunglasses. These shades provide glare-cutting visibility to help you spot potholes and rocks from a distance, plus boosted contrast for stunning, crystal clear vision.
Oakley Half Jacket 2.0 XL Sunglasses - Men's
There's little about the Oakley Half Jacket that hasn't already been said by its overwhelmingly appreciative wearers, or impressive sales numbers since its release way back in 2002. The new Half Jacket 2. 0 XL continues the longstanding traditions of Oakley's first interchangeable dual lens sport...
Oakley Jawbreaker Prizm Sunglasses Polished White/Prizm Road, One Size - Men's
Apart from their retro style, the Jawbreaker Prizm Sunglasses feature some of Oakley's most innovative technologies for the modern cyclist. Oakley's Prizm technology gives the Plutonite lens a shape that enhances the road so we can see any rock or pothole that comes our way.
Oakley M2 Frame XL Sunglasses - Men's
Whether you prefer a long stretch of open road or a trail through the mountains, enhance your riding experience with the Oakley M2 Frame XL Sunglasses. Thanks to an enhanced vertical dimension, these sunglasses offer increased field of vision even when your head is tilted down. A lightweight...
Oakley Radar EV Path Prizm Sunglasses Polished White/Prizm Snow, One Size - Men's
Give yourself the gift of clear vision when the going gets tough with Oakley's Radar EV Path Prizm Sunglasses. These top-performing shades are finely tuned with extended vision that enhances contrast and visibility, while eliminating blinding glares when you're hammering on the pedals down the...
Smith Attack MAG MTB ChromaPop Sunglasses Matte White/ChromaPop Black, One Size - Men's
The Attack MTB ChromaPop Sunglasses sport impressive coverage, durable materials, and optimized tints for riding off-road. They protect our eyes from errant trail debris and the sun's rays. Moreover, we also get a sharp field of vision thanks to ChromaPop technology. Smith provides two of its...
Smith Pivlock Echo Elite Sunglasses Tan 499/Clear Gray Ignitor, One Size - Men's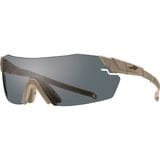 Smith's Pivlock Echo Elite Sunglasses have a distinct military influence, and they're designed for battling pavement with running shoes or bicycles. Their Carbonic lenses fend off harmful sunlight, while the various treatments stand guard against fogging and scratching. Proposition 65 Warning for...
Smith Ruckus ChromaPop Sunglasses Matte Black/ChromaPop Black, One Size - Men's
The Ruckus Chromapop Sunglasses are Smith's premiere performance sunnies, and we love them for cycling, running, and working out under the bright sun. Smith's most innovative lens technology, Chromapop enhances overall clarity by filtering out secondary colors to make natural colors really pop....
Smith Shift MAG ChromaPop Sunglasses Matte White/ChromaPop Black, One Size - Men's
There's nothing worse than squinting our way through a bike or a trail run, and we're set on making sure that doesn't happen by donning the Shift MAG ChromaPop Sunglasses. ChromaPop lenses make everything from wildflowers to the blues in the sky pop, and a comfortable fit means we'll be wearing...
<< Prev | 1 | 2 | Next >>