Womens Clothing Womens Road Bike Clothing Womens Road Bike Accessories Warmers Arm Warmers - Road Bike Shop
Shop
>
Apparel & Accessories > Clothing Accessories > Arm Warmers & Sleeves
>
Women's Apparel Clothing > Women's Road Bike Clothing > Women's Road Bike Accessories > Warmers > Arm Warmers
Castelli Nano Flex 3G Arm Warmer Belgian Blue, L
Rain or shine, wet or dry, these warmers give you the extra bit of warmth you need to stay comfortable when you're riding on a brisk day in early fall or late spring. The stretchy, fleece-backed thermal fabric is coated with millions of tiny nanofilaments that encourage water to bead up and roll...
Castelli Pro Seamless 2 Arm Warmer
When we can't decide on a long-sleeve jersey or not, we simply pull on the Pro Seamless 2 Arm Warmer and get moving. This arm warmer from Castelli lets us control our temperature easily and transition between layers in seconds. It features the ideal balance between warmth and lightness and...
Castelli Thermoflex 2 Arm Warmer
The Castelli Thermoflex 2 Arm Warmers are designed to take some of the sting out of cold-weather cycling while remaining as comfortable and secure as possible. The Thermoflex fleece fabric is warm and stretchy with a soft brushed interior, and offers surprising wind resistance and moisture...
Castelli UPF 50+ Light Arm Sleeves
While most arm coverings are designed to keep you warm, the UPF 50+ Light Arm Sleeves from Castelli can actually keep you cool too. They are rated at UPF 50+, however, Castelli claims that in laboratory tests, they actually blocked 99. 8 percent of damaging UV rays. It uses a polyester base that...
Giordana G-Shield Thermal Arm Warmer
Protection against the elements. A true 3-season kit, G-Shield garments are designed to keep you warm in cool and cold conditions and dry in wet conditions by limiting fabric saturation. The G-Shield collection is so versatile it can keep you riding in fall, through winter, with the addition of...
Giordana Heavyweight Knitted Arm Warmer Black, XL/XXL
Retail Price:
$49.95
Our Price: $27.47
buy now
Super soft Dryarn fabric, a polypropylene material with excellent moisture moving capabilities, draws perspiration quickly away from the body keeping you warm and dry. The tubular knit of these arm warmers gives the fibers varying densities and follows the contours of the riders muscles and...
Giordana NX-G Pro TRI Arm Sleeve Black, M
With a sport as dynamic as triathlon, our bodies are truly put to the test. Giordana's NX-G Pro TRI Arm Sleeve provides muscle compression to lessen fatigue, so we can go harder and recover faster between events. Giordana uses a tightly woven construction with four-needle stitching to ensure the...
Giordana Sun Arm Sleeve White, XL
Prepping for a ride in sunny conditions means being smart about coverage so you don't overheat on your ride. The Giordana Sun Arm Sleeve is perfect for those sunny days when the sun will be beating down, and you need extra protection. It's designed with UPF 50+ protection that won't weigh you...
Giordana Super Roubaix Arm Warmers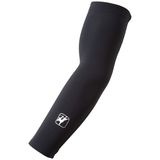 Giordana makes their arm warmers from Super Roubaix fabric for loads of warmth. Use these in conjunction with a vest and a baselayer and you can ride in your favorite short sleeve jersey nearly year-round. Great from mid 40's to around 60 degrees. These arm warmers are built to last several...
Giro Chrono Arm Warmers
Retail Price:
$44.95
Our Price: $33.70
buy now
OUR CHRONO ARM WARMERS FEATURE A SLEEK DESIGN WITH NYLON THREAD TO ENSURE A SOFT FEEL, WHILE POLYESTER CONTENT PULLS MOISTURE AWAY FROM YOUR SKIN.
<< Prev | 1 | 2 | 3 | 4 | Next >>