Womens Clothing Womens Road Bike Clothing Womens Road Bike Bottoms Womens Tights Knickers Womens Knickers - Road Bike Shop
Shop
>
Apparel & Accessories > Clothing > Activewear > Bicycle Activewear > Bicycle Tights
>
Women's Apparel Clothing > Women's Road Bike Clothing > Women's Road Bike Bottoms > Women's Tights & Knickers > Women's Knickers
Assos Uma GT Half Knickers - Women's blackSeries, XL
Retail Price:
$169.00
Our Price: $92.95
buy now
When shorts feel too cold and pants feel too hot, the Assos Women's Uma GT Half Knickers feel just right. They're super breathable and lightly insulated for spring and fall conditions. The Goldengate chamois combines cushy 8mm memory foam with 3 waffle knitting for shock-absorbing saddle comfort...
Assos UMA GT Spring Fall C2 Half Knicker - Women's
As the name suggests, we ride in the ASSOS UMA GT Spring Fall C2 Half Knicker when the weather's too cold for shorts but not cold enough to hop on the trainer. RX EVO panels offer moisture-wicking, breathable, and thermal performance, delivering warmth in cool temperatures without letting us...
Assos UMA GT Summer C2 Half Knicker - Women's
Keeping things light and simple in the warmer months, the UMA GT Summer C2 Half Knicker eliminates the need for bib straps without compromising a secure fit in the saddle. ASSOS's new hipClick waist design combines layers of elastic and mesh for a high-coverage, locked-in fit, while a patented...
Castelli Velocissima 3 Knicker - Women's Black/Silver, M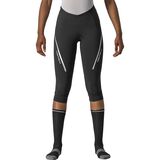 We like the Castelli Velocissima 3 Knicker for late spring and early summer rides where we want a bit of extra leg coverage. A flattering cut, a stitch and elastic-free flat waistband, and high-modulus stretch Lycra ensure a comfortable fit around the legs. Its KISS Air2 Donna seat pad provides...
Castelli Velocissima Thermal Knicker - Women's Belgian Blue/Silver Reflex, M
Thermal knicker with soft, fleecy Thermoflex fabric for cool-weather autumn and spring rides. Thermoflex fabric for warmth and comfortKISS Air2 Donna seat pad for long-distance comfortLie-flat waist elasticReflective band at bottom of leg
Club Ride Apparel Joanie Capri - Women's Raven, S
Spring days on the trail can offer weather that's a bit iffy at best, and picking out the proper elements of your kit can be a tricky task. When the weather is a bit in-between, we find that the best pieces to throw on also fall a little in-between, like the Club Ride Joanie Capri. These knickers...
Craft Essence Knickers - Women's Black, M
Designed for days where a light chill rides the breeze, the Craft Essence Knickers are the low-profile 3/4-length tights for your time on your bike. Made of Lycra Sport Energy, these knickers wick away perspiration, breathe well, and support your efforts with their compressive fit that doesn't...
Giordana FR-C Pro Bib Knicker - Women's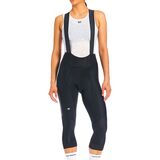 Giordana's FR-C Lineup has managed to make its mark as one of our personal favorites when we take to the tarmac, and the Bib Knicker is no different. These knickers provide shoulder-season comfort, with incredible breathability to keep you going through the miles, and just a little more coverage...
Giordana FR-C Thermal Bib Knicker - Women's
The FR-C Pro Thermal Bib Knicker is your go-to bib knicker for all-out efforts in milder climates.
Giordana Fusion Knickers - Women's
Knickers never generate as much attention as bib shorts or tights, but if you're the type of cyclist who has a hard time narrowing down what to wear during the shoulder seasons, we'd recommend you giving them a chance. Investing in a pair that doesn't require you to make compromises in fit is key...
<< Prev | 1 | 2 | 3 | Next >>