Mens Clothing Mens Road Bike Clothing Mens Road Bike Bottoms Mens Tights Knickers Mens Knickers - Road Bike Shop
Shop
>
Apparel & Accessories > Clothing > Activewear > Bicycle Activewear > Bicycle Tights
>
Men's Apparel Clothing > Men's Road Bike Clothing > Men's Road Bike Bottoms > Men's Tights & Knickers > Men's Knickers
Castelli Entrata Bib Knicker - Men's Belgian Blue, XXL
Live where it's not always 70 and sunny and knickers quickly become a shoulder season MVP. Castelli's Entrata Bib Knickers provide the same fit and feel of Castelli's quality bib shorts, in a length better suited to crisp mornings and fall days, keeping our knees warmer without the hassle of...
Castelli Entrata Thermal Bib Knicker - Men's
Castelli's innovative spirit shows in the Entrata Thermal Bib Knicker. It pushes past industry standards to offer a knicker that feels like a second skin offers cushioning and support from its KISS Air2 seat pad. GIRO3 leg grippers hold everything in place, and reflective panels on the rear lower...
Castelli Sorpasso RoS Knicker - Men's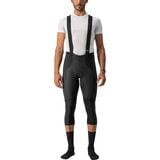 Riders who enjoy a bit of crisp weather on the lower legs or don't like the feel of an ankle zipper will enjoy Castelli's Sorpasso RoS Knicker, which confidently braces against winter elements that would typically drive you to months on the indoor trainer. Designed for slightly warmer conditions...
Castelli Tutto Nano Bib Knicker - Men's Black, XL
The day started balmy and bright, but there's inclement weather ahead. This may pose as a threat to some kits, but Castelli's Tutto Nano Bib Knickers excel when conditions are variable. They offer the perfect in-between coverage with knicker length, plus the new Nano Flex 3G fabric that traps in...
Craft Essence Bib Knickers - Men's
Make cool weather rides a breeze with Craft's Essence Bib Knickers. These knickers offer just enough coverage when the temperatures dip, and the pure support of Craft's C3 chamois that cradles the sit bones for comfort on the long haul. Lycra Sport Energy compression fabric provides gentle...
Giordana FR-C Pro Bib Knicker - Men's
The FR-C Pro Bib Knicker happens to be one of our personal favorites for enjoying shoulder season rides in total comfort. They're Giordana's top knicker, incorporating feedback from their sponsored Pro Teams to bring us the best possible fit and performance. Technical fabrics contour the body...
Giordana FR-C Thermal Bib Knicker - Men's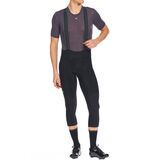 When the chill threatens to stall our legs, we pull on the FR-C Thermal Bib Knicker to stay warm on exposed flats without overheating on long ascents. The ultra-soft lining keeps our muscles primed to climb, while the strategically placed panels let excess heat escape as we drop gear and start...
Giordana Fusion Bib Knicker - Men's
We appreciate the simple things in life, like fuss-free kits that stay in place and provide just the right amount of coverage, sans knee-warmers and uncomfortable bunching. That's not to say the Fusion Bib Knickers are simple, in fact with their moisture wicking and compressive qualities they are...
Giordana SilverLine Thermal Bib Knickers - Men's
Prepare for the upcoming cold season in the SilverLine Thermal Bib Knicker. These insulating bibs offer the warmth we want when the temperatures drop without overwhelming us with heat from the get-go. Wind-blocking fabric regulates temperature from the outside in, and the compressive fit keeps...
GOREWEAR C3 3/4 Bib Tights+ - Men's Black, US XL/EU XXL
Retail Price:
$120.00
Our Price: $90.00
buy now
Slip into the Gore Wear Men's C3 3/4 Bib Tights+ for optimal coverage in chilly transitional seasons when it's not quite warm enough for bib shorts, yet full-length knickers are certainly overkill. Supportive fabric hugs your body without inhibiting essential pedaling movements, plus it actively...
<< Prev | 1 | 2 | Next >>