Accessories Car Racks Roof Racks Parts Roof Rack Bike Mounts - Road Bike Shop
Shop
>
Vehicles & Parts > Vehicle Parts & Accessories > Vehicle Storage & Cargo > Motor Vehicle Carrying Racks > Vehicle Bicycle Racks
>
Accessories > Car Racks > Roof Racks & Parts > Roof Rack Bike Mounts
Kuat Piston SR Dual Ratchet Roof Bike Rack Sandy Black, One Size
If you have biked or cycled for as long as we have we are confident you have had frustrations with a bike rack. The Kuat Piston SR Dual Ratchet Roof Bike Rack helps alleviate those issues by combining a stainless steel construction with a dual wheel chock system that can quickly adapt to...
Kuat Trio Fork Mount Roof System Black / Polished Chrome, One Size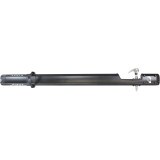 We won't say that Kuat makes the best bike racks out there, but we see them on plenty of cars, and think that popularity probably speaks for itself. Take the Kuat Trio Fork Mount Roof System. Most fork-mounted racks only really work with quick-release axles--although a dedicated rider can...
RockyMounts BrassKnuckles Upright Mount Black, One Size
Throw your bike on the rack, lock it down, and get on the road with the RockyMounts BrassKnuckles Upright Mount. No more removing wheels, fiddling with thru-axle adapters, or worrying about excess stress on your precious bicycle frame. The Upright Mount features ergonomic BrassKnuckles that...
RockyMounts Switch Hitter LS Bike Mount Black, One Size
The RockyMounts Switch Hitter Bike Mount is a versatile fork-mounted bike carrier, attaching to virtually any crossbar system with its universal mounting hardware. T-track hardware is included for slotted bars. Lightweight cast aluminum construction is robust and non-corrosive, with a sleek...
RockyMounts The Fattie One Color, One Size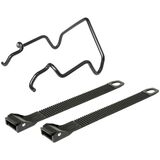 The RockyMounts Fattie is an adapter that allows you carry your Fat Bike on the RockyMounts BrassKnuckles roof bike carrier. The Fattie comes with a replacement bracket which supports the rear of the front tire and a rear wheel strap extension to secure the rear wheel.
RockyMounts Tomahawk Fat Bike Ready Upright Mount Black, One Size
When the innovative minds at RockyMounts decided that fat bike racks were too few and far between, they created the Tomahawk Fat Bike Ready Upright Mount. With the overall structure carried over from the venerated BrassKnuckle and its new capability to fit any bike ranging from 20-29 inches with...
SeaSucker Bomber 3 Bike Rack
Whether you regularly need to switch your rack from car to car or you simply prefer a rack that is easy to use, the SeaSucker Bomber 3 Bike Rack is the secure frame mount you need to move a slew of bikes at once. The Bomber 3 will sit on your roof, hatchback, or trunk, making it compatible with...
SeaSucker Cable Anchor
Dont let some jerk steal your bike! Since SeaSucker bike racks arent bolted on to rooftop bars, we came up with a way to keep your bike safe. A Cable Anchor is just what it sounds like an anchor point to securely connect a cable loop to your car. The Cable Anchor Trunk, has a steel rod that...
SeaSucker Flight Deck Front Wheel Holder Upgrade
The Flight Deck turns the regular rear wheel strap of your SeaSucker Talon, Mini Bomber, or Bomber rack into a front wheel holder that adds stability and security to the drive from home to trail head.
SeaSucker Hornet Hatchback/SUV Bike Rack
Whether it's a cross-country road trip or just a 5-mile drive to the trailhead, the SeaSucker Hornet Hatchback/SUV Bike Rack securely carries your bike from Point A to Point A with one of the smallest, most compact designs on the market. In fact, it's so compact that it fits into an included...
<< Prev | 1 | 2 | 3 | Next >>