Accessories Hydration Packs Bags Water Reservoirs - Road Bike Shop
Shop
>
Sporting Goods > Outdoor Recreation > Hydration System Accessories
>
Accessories > Hydration Packs & Bags > Water Reservoirs
CamelBak Big Bite Valve Cover One Color, One Size
Keeps CamelBaks unique Big Bite Valve clean and protects it in extreme weather, work, or operational conditions.
CamelBak Crux Insulated Tube Director One Color, One Size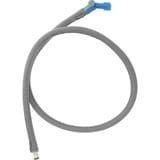 Forget reaching for a drink when you're sipping hands-free with the CamelBak Crux Insulated Tube Director. This drinking tube bends upwards for hands-free hydration when you're hiking, running, and mountain biking. The tube is covered with an insulated sleeve that keeps water flowing in icy...
CamelBak Crux Thermal Control Kit One Color, One Size
Whether you're snowshoeing along Salt Lake's towering Wasatch Range or trail running through Madison's forested arboretum on a frigid winter evening, the Crux Thermal Control Kit prevents your CamelBak Crux Reservoir drinking tube from freezing solid. This kit contains everything you need to...
CamelBak Ergo Hydrolock
The 90-degree bend in CamelBak's Ergo HydroLock puts the Big Bite(tm) Valve into an ergonomic position for drinking. With a simple flip, the on/off mechanism can be activated or shut off.
CamelBak Reservoir Dryer One Color, One Size
The CamelBak Reservoir Dryer drains out your CamelBak Crux Reservoir, preventing the growth of funk and mold caused by residual moisture trapped inside. Its portable design allows you to take it virtually anywhere you roam, from backwoods campsites to interstate rest stops.
CamelBak Unbottle 2L Hydration Reservoir
The CamelBak Unbottle 2L Hydration Reservoir is an easy way to add water to your gear arsenal. The Crux reservoir is wrapped in an insulated sleeve to protect your water from the fluctuating temperatures around you. This system has multiple attachment points to make strapping it onto a backpack...
Evoc Magnetic Tube Clip Black, One Size
Designed to fit all Evoc hydration systems, the Magnetic Tube Clip keeps the drinking tube of your hydration bladder locked into place during strenuous bike rides. It uses a two-piece design to attach it to your hip belt, backpack, or vest, along with an extra-strong magnet to make for convenient...
MSR Hydration Kit
The MSR Hydration Kit converts MSR Dromedary and DromLite bags into a hands-free hydration system. The Hydration kit comes complete with an MSR Bullet Bite Valve, a 42-inch polyethylene-lined drinking tube that resists freezing temperatures, and a custom hydration cap with a 360 degree swivel...
Nathan 1.5L Replacement Bladder
Ideal for replacing your old, worn-out hydration reservoir, the Nathan 1. 5L Replacement Bladder features BPA-free plastic and a large, easy-fill opening for quickly refilling water at home and trail pit-stops alike. Its high-flow bite valve keeps you hydrated with minimal effort as you blast...
Nathan 1.6L Insulated Hydration Bladder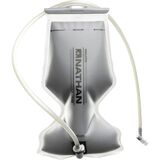 1.6L Insulated Hydration Bladder
<< Prev | 1 | 2 | Next >>