Womens Clothing Womens Road Bike Clothing Womens Road Bike Accessories Womens Cycling Gloves Womens Short-Finger Cycling Gloves - Road Bike Shop
Shop
>
Sporting Goods > Outdoor Recreation > Cycling > Cycling Apparel & Accessories > Bicycle Gloves
>
Women's Apparel Clothing > Women's Road Bike Clothing > Women's Road Bike Accessories > Women's Cycling Gloves > Women's Short-Finger Cycling Gloves
Castelli Dolcissima 2 Glove - Women's
Retail Price:
$39.99
Our Price: $21.99
buy now
Designed as a minimalist glove to protect your hands comes the Dolcissima 2 Glove from Castelli. It features a breathable, engineered mesh backing to wick away moisture and add breathability while a silicone printed palm improves your grip and control. The Dolcissima 2 uses a simple pull-on...
Castelli Rosso Corsa 2 Glove - Women's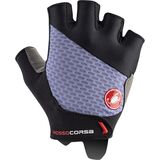 Retail Price:
$49.99
Our Price: $37.49
buy now
The Rosso Corsa 2 Glove fits into the Castelli line as a top-tier cycling glove that's designed to minimize the discomfort of numb or aching palms on extended road rides. We've grown to appreciate Castelli's Damping System (CDS) which utilizes gel padding in the palm to prevent unwanted feedback,...
Castelli Roubaix Gel 2 Glove - Women's Light Black, XS
Castelli updates the Roubaix 2 Glove with their refined CDS padding to protect hands and a new hook-and-loop closure at the wrist. As their most padded glove, the Roubaix 2 offers maximum protection for riders taking on roads like the storied cobbles of Roubaix and other rough stretches of...
Endura FS260-Pro Aerogel II Mitten - Women's
Retail Price:
$49.95
Our Price: $37.45
buy now
Race-proven, performance road mitt with impressive venting perforated gel padding. For the committed female rider on a serious day out.
Giordana Strada Gel Glove - Women's
The Strada Gel Glove is designed for the cyclist who requires the maximum amount of padding between the hands and the handlebar. This extra level of padding offers a the maximum amount of vibration dampening benefits for riders who may prefer it. A great choice for longer days in the saddle, or...
Giro Jag'ette Glove - Women's Harbor Blue/Screaming Teal, M
Retail Price:
$19.95
Our Price: $14.96
buy now
Our riding apparel doesn't stop at the jersey and bibs: The Jag'ette Glove is a half-finger glove that blends exceptional grip with thermal and moisture regulating performance. Towel-like fibers sit atop the stretchy, high-traction palm, making it easy to wipe away the moisture from our specs and...
Giro Strada Massa Supergel Glove - Women's Black, S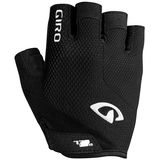 Retail Price:
$35.95
Our Price: $26.95
buy now
Dr. Giro has the cure for cyclists who want to feel their handlebars without suffering the fatigue-inducing vibrations from a rough road or a washboard trail. The prescription is the Strada Massa Supergel Gloves, which apply medical technology to cure the symptoms of excessive bike chatter. The...
Giro Supernatural Glove - Women's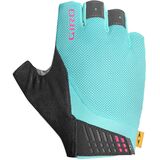 Retail Price:
$49.95
Our Price: $32.47
buy now
Glove technology can be overlooked next to kit and bike designs, but as two of the five connecting points on the bike, how your gloves feel and perform can make or break comfort on a given ride. Giro steps up the glove game for the Supernatural and partners with chamois experts, Elastic Interface...
Giro Tessa Gel Glove - Women's
Retail Price:
$24.95
Our Price: $11.23
buy now
Whether you're rolling out on an all-day gravel tour or clipping in for a harried series of post-work intervals, your cycling gloves' jobs are equal parts moisture management and chatter diffusion. The Giro Tessa Gel Gloves has both roles covered, using a synthetic palm/upper combination to...
Giro Tessa II Gel Glove - Women's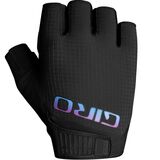 The Tessa Gel glove offers classic style with updated performance, so you can push your limits on the road or trail while looking good and keeping comfortable.
<< Prev | 1 | 2 | 3 | Next >>