Mens Clothing Mens Road Bike Clothing Mens Road Bike Accessories Mens Gloves Mens Winter Bike Gloves - Road Bike Shop
Shop
>
Sporting Goods > Outdoor Recreation > Cycling > Cycling Apparel & Accessories > Bicycle Gloves
>
Men's Apparel Clothing > Men's Road Bike Clothing > Men's Road Bike Accessories > Men's Gloves > Men's Winter Bike Gloves
45NRTH Sturmfist 4 Finger Glove Glacial Grey, S - Men's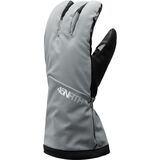 With headquarters in Minnesota, 45NRTH knows it's not always mild and sunny winter weather out there. So, when we're set on logging countless miles through the winter, we prepare ourselves by pulling on our winter kit and the Sturmfist 4 Finger Glove. It delivers comfort and dexterity by using...
Assos Assosoires GT Rain Glove - Men's
Low-volume rain gloves for year-round riding, constructed with our 3-layer NeoWet textile to regulate temperature from the inside out.
Assos Assosoires Ultraz Winter Glove - Men's
While our core may be comfortable with the same vest and jersey combination for months, our hands need more care to be warm enough to shift and brake properly as winter settles in for the season. The Assos Ultraz Winter Glove is built on the same scaffold as the Early Winter and Winter Gloves,...
Assos GTO ULTRAZ Winter Thermo Rain Glove - Men's
An update to our ULTRAZ glove platform for long-distance comfort in winters harshest conditions. Waterproof, windproof, and breathable, with increased insulation, durability, and grip. Our newly reengineered ULTRAZ Winter Thermo Rain Gloves are the pinnacle of winter endurance comfort, equipped...
Assos RSR Thermo Rain Shell Glove - Men's
The ASSOS RSR Thermo Rain Shell Glove keeps our hands protected from wind, rain, and cold temperatures as we ride through harsh conditions. It features a 2-layer membrane with superior water repellency to keep us dry, while the silicone grip maintains its secure hold on our slippery hoods.
Assos Spring Fall Liner Gloves - Men's
Ultralight, the ASSOS Spring Fall Liner Gloves give us a touch of insulation to keep dexterity up on crisp shoulder-season rides. The knit material blend is stretchy, low-profile, and breathable for warmth that doesn't feel bulky or stifling.
Bar Mitts Road Pogie Handlebar Mittens - Men's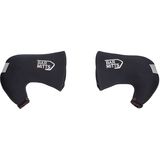 There's only so much layering you can do when temperatures dip below freezing. Too much, and shifts become sloppy, if existent at all, and braking near impossible -- a terrifying endeavor on icy roads. The Road Pogie Handlebar Mittens act as an insulated den for your hands, so you can opt for...
Castelli CW 6.1 Unlimited Glove Pompeian Red, XL - Men's
When we need lightweight cycling gloves with added grip, our first thought is the Castelli CW 6. 1 Unlimited Glove. Designed for cyclocross and gravel riding, the CW 6. 1 Unlimited Glove features a lightweight fabric that is breathable and wind-resistant, perfect for cool-weather rides. The...
Castelli Diluvio C Glove - Men's Red, XXL
Cycling in rain may have you reaching for waterproof gloves, but Castelli's designers see some wisdom in going another direction -- that's why they crafted the Diluvio C Gloves from 3mm neoprene. The neoprene insulates like your other winter gloves, but also allows just a touch of moisture to...
Castelli Diluvio One Glove - Men's
Made to keep your hands warm and dry in cool and wet conditions, while being half the normal thickness for improved dexterity. Premium neoprene with silicone grip on the palms and glued waterproof seams add to the comfort. 1. 5-2mm neoprene insulation to keep your hands warm in wet conditionsGrip...
<< Prev | 1 | 2 | 3 | 4 | 5 | 6 | 7 | Next >>