Accessories Pumps Co2 Inflators Floor Pumps - Road Bike Shop
Shop
>
Sporting Goods > Outdoor Recreation > Cycling > Bicycle Accessories > Bicycle Pumps
>
Accessories > Pumps & Co2 Inflators > Floor Pumps
Blackburn Chamber Tubeless Floor Pump
Tubeless tires grant us a whole new freedom from flats, but we still encounter moments of frustration with them -- particularly when it comes to seating a new tire without a proper pump. Most of us don't have air compressors at home, but fortunately Blackburn has you covered with the Chamber...
Pedro's Domestique Floor Pump One Color, One Size
Designed with value in mind that'll appeal to home mechanics, Pedro's Domestique Floor Pump features quality construction, a dual-valve head, and a high air-volume stroke to quickly inflate tires. The steel barrel permits a max PSI of 120, and an integrated pressure gauge ensures one of the most...
Pedro's Prestige Floor Pump One Color, One Size
There's only one thing that's worse than going for a ride, only to discover that you're dragging anchor thanks to an under-inflated tire, and that's getting a flat because you couldn't be bothered to air up your steed. Thankfully, the nice people at Pedro's have you covered with the Prestige...
Pedro's Super Prestige Floor Pump
For those who use thier tools day in and day out, Pedro's Super Prestige is a simple, stable, and durable floor pump. The alloy barrel stands up to the knocks and dings of a busy mechanic, and its ergonomic, soft-grip handle feels great every time you grab it. The long stroke, narrow barrel...
Silca Aluminum Disc Chuck
The unique bright red gasket borrows from industries which require air-tight seals in the harshest of environments and tests to a life expectancy of more than 5X the carbon filled rubber or Buna-N materials. The 252 gasket mates with a new compression head design allowing the user to tighten the...
Silca Presta Chuck Stainless Steel, One Size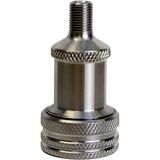 The Silca Presta Chuck allows for easy press-on use that will stay on and press off quickly as needed. With its durable construction and 242 synthetic gasket, this handy tool will live a long life.
SKS Airchecker Digital Gauge/Pressure Regulator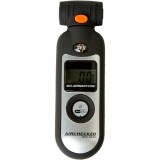 The SKS Airchecker Digital Display Pressure Gauge is a far cry from a squeeze and a "seems good enough" as you roll towards the door for a long training ride. In the same amount of time that you can wonder what your tire pressure is at, you can check it and know. SKS uses modern technology to...
Topeak Joe Blow Booster Floor Pump
Retail Price:
$219.95
Our Price: $175.96
buy now
Whether it's on the trail, carving a 'cross course, or churning over pavement, tubeless tires carry with them ghosts of wasted C02 cartridges and gallons of burned fuel in search of the perfect shop compressor to achieve a functional seal. All that effort seems like a negative way to start the...
Topeak Joe Blow Sprint Floor Pump
Retail Price:
$89.95
Our Price: $71.96
buy now
A true classic, the Joe Blow Sprint Floor Pump is a mainstay in our garage. The pump works with all our bikes from the kids' strider to our top-end road machine. The flip-lock valve easily works with Presta and Schrader valves, and the included adapter lets us pump up our sports balls too.