Mens Clothing Mens Triathlon Clothing Tri Accessories Embrocations Creams Embrocations And Creams - Road Bike Shop
Shop
>
Health & Beauty > Personal Care > Cosmetics > Skin Care > Acne Treatments & Kits
>
Men's Apparel Clothing > Men's Triathlon Clothing > Tri Accessories > Embrocations & Creams > Embrocations And Creams
Assos Chamois Cream
We all hate to admit it, but saddle sores are a huge part of spending long days in the saddle. All riders from beginners to professionals experience chafing and sores, but we can lessen the discomfort we feel during our ride with Assos' specifically engineered Chamois Creme. A lubricating cream...
Castelli Chamois Cream White, 100ml
Castelli's Chamois Cream aims to make any ride more comfortable -- whether you're heading out for a quick, easy loop or a four-hour training ride, your sensitive areas will thank you for the added protection they'll get from this non-greasy, dry-formula cream. Castelli uses natural tea tree oil...
Castelli Foul Weather Cream
The sky is dark, those clouds in the distance look menacing, and the wind gusts are nothing short of icy. But you've got all afternoon, so against everyone else's better judgment, you're going out there for a ride, anyway. If you're in the habit of heading out on days like this, we'd recommend...
Castelli Skin Care Combo - 3-Pack
Introducing Castelli's Skin Care Combo - 3-Pack, the ultimate bike accessory for outdoor enthusiasts. This all-in-one solution offers superior protection, comfort, and performance. Experience a chafe-free ride with our nourishing chamois cream, prevent blisters and irritation with our...
Castelli Warming Embro Cream White, 100ml
Sometimes tights or warmers don't feel like the right choice before a damp, chilly 'cross race or a cool training ride. For days when you need protection from the cold but don't want to sacrifice freedom of movement with extra layers, reach for Castelli's Warming Embro Cream. Castelli uses...
DZ Nuts Bliss Chamois Cream - Women's
DZ Nuts Bliss Women's Chamois Cream is scientifically formulated to soothe women's sensitive skin in the nether regions, the pro-grade chamois cream provides the ultimate protection even for top-level training and racing. Nothing can ruin a ride faster than chafed skin which gets rawer and rawer...
DZ Nuts InHeat Embrocation - 6.7 fl. oz. Medium Heat, 6.7fl. oz.
Who doesn't love a massage? DZ Nuts InHeat Embrocation Cream will quickly become the pre-race rub-down that you will enjoy. It has been formulated to be best used before rides or races where the weather isn't ideal. It warms and loosens the muscles so that you shouldn't suffer that creaky,...
DZ Nuts Pro Chamois Cream
Hours in the saddle will start to beat up anyone's unmentionable areas--regardless of the rider and regardless of the saddle. Chamois cream, however, takes the pinch out and the edge off any ride, so you can forget about your saddle area and concentrate on the fire in your lungs. DZ Nuts Pro...
Mad Alchemy Dark Matter Chamois Cream One Color, One Size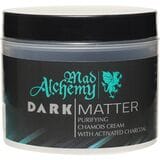 Dark Matter Purifying Chamois Cream is a revolution in modern chamois creams. A formulation years in the making. Dark Matter has been designed not to be noticed. The formulation is light yet remarkably protective. The secret ingredient in our Dark Matter is as old as the earth itself. Activated...
Mad Alchemy Gentleman's Blend Warming Embrocation One Color, One Size
Undercarriages are pretty personal things, so what gives someone else a friendly tingle might feel like it's goosing you with a cattle prod. If other embrocations are little too zippy for your liking, but you still enjoy the smell of Texas White Cedar and rosemary oil and the gentle tingle of...
<< Prev | 1 | 2 | 3 | Next >>